Another two $10,000 barra in the bag!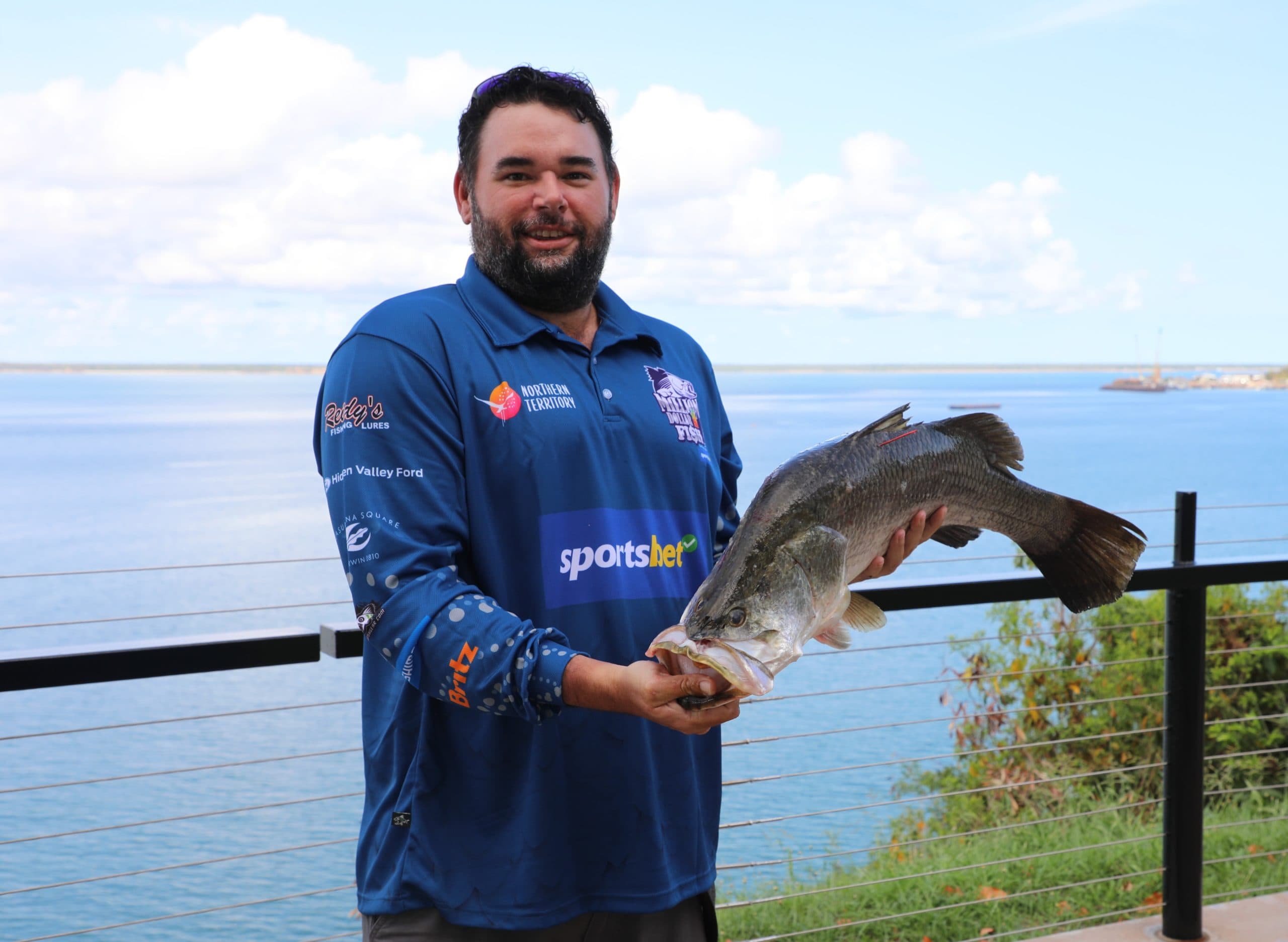 Fishos all over the Top End are winning big through Million Dollar Fish Season 8, with $70,000 worth of prize money already won by six registered participants in less than three weeks of the competition. An additional $7,000 has been paid out to official Million Dollar Fish charity partners.
The two latest fishos to win big as part of Australia's richest fishing competition, underwritten by SportsBet, were Territorians Rory Laidlaw-Hall and Jack Daly.
Mad keen fisho Rory Laidlaw-Hall of Malak found himself $10,000 richer after snagging a red-tagged barramundi at Mary River Bridge Lagoon on Monday, 17 October. Rory first spotted the red tag as he was reeling the fish in towards the boat, and quickly secured his lucrative catch. He said he'll use his prize money to fix his car's air-conditioning and buy some new fishing gear. "I've been registering for Million Dollar Fish the last three years, but didn't ever think I was lucky enough to get one," he said. "My breathing definitely picked up when I spotted the red tag. It was just me in the boat and I was worried I'd lose the barra before I netted him."
The other lucky angler to pocket $10,000 was Daly River's Jack Daly. Jack was fortunate enough to find a red-tagged barramundi on the end of his line when he was fishing at the Daly River Crossing. "I wasn't too sure about the red tag – I had to double check it to make sure it was real," he said. "My son and a friend were with me when I caught the fish, we were all dancing around on the sand!" An avid fisho, Jack said he plans to spend the money on his family and home renovations. Luck seems to run in Jack's family, with his nephew Darryl McLeod also bagging a red-tagged barramundi at Daly River Crossing on Friday, 14 October. Darryl's partner Kaitlyn Ahfat caught a red-tagged fish at the same location in Season 6.
Each time a Season 8 $10,000 barra is caught, an extra $1,000 is given to one of the official Million Dollar Fish charities, as nominated by the winning fisho. Rory decided to give his cash to Cancer Council NT, while Jack opted to donate his $1,000 to the Starlight Children's Foundation.
Northern Territory Major Events Company (NTMEC) Head of Events and Operations Coryn Huddy Million Dollar Fish is a fantastic initiative, which creates many valuable benefits for the Territory from a social and economic perspective. "It also puts the Territory on the national stage, inspiring even more visitors to make their way to the Top End for our world-class fishing and incredible tourism experiences," he said. "At this rate, we're in for another record-breaking season of Million Dollar Fish and look forward to seeing more fishos win big before the end of March next year."
Million Dollar Fish Season 8 kicked off on 1 October 2022, and runs until 31 March 2023. There are still 94 $10,000 barramundi swimming around Territory waterways, in addition to nine fish worth a million dollars. This includes the Season 8 Million Dollar Fish, plus the other big ones from previous seasons which are still eligible to be caught. Prize-tagged barramundi have been released across the Tiwi Islands, Darwin, Katherine, Arnhem Land and Kakadu.
To claim any prize money, or fantastic prizes as part of the monthly Lucky Prize Pool, anglers must be registered for Season 8. Register for free at www.milliondollarfish.com.au.