And they keep on coming… another two tagged fish caught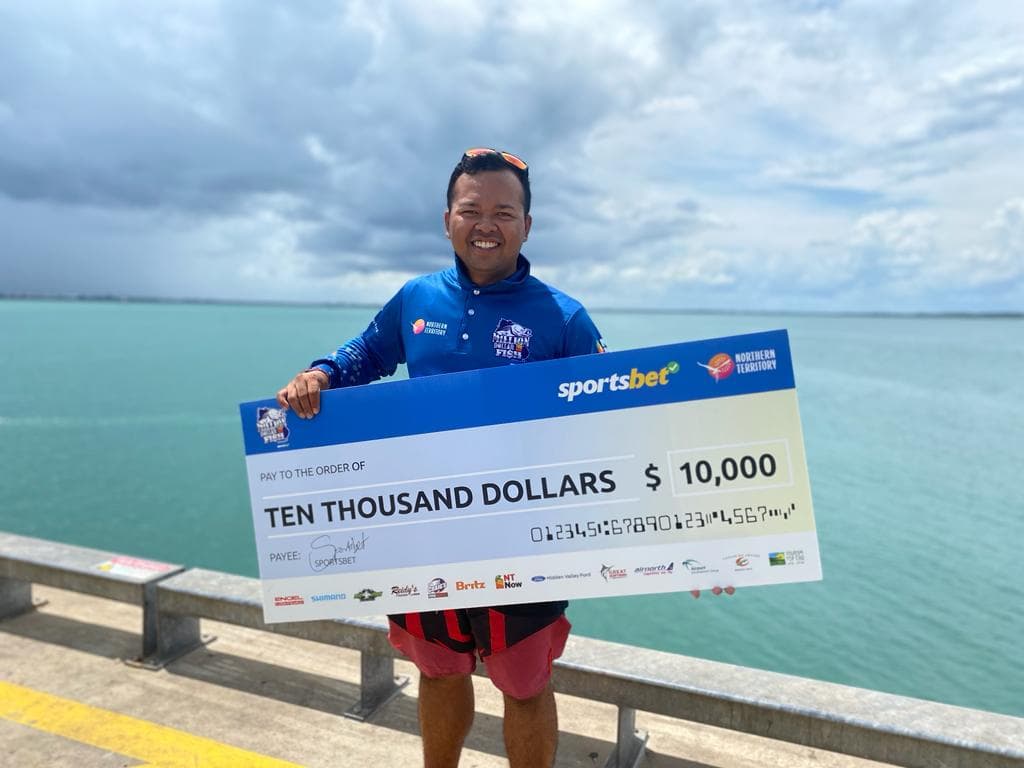 Australia's richest fishing competition continues to live up to its name, with two more $10,000 tagged fish caught as part of SportsBet's Million Dollar Fish Season 8. The record-breaking season only began on 1 October 2022, and eight fishos are already sharing $90,000 worth of prize money.
The seventh fish was caught on 19 October by Komang Budiana from McMinns Lagoon in Darwin. He bagged his winning barra at Stokes Hill Wharf and plans to use his prize money to help bring his brother to Australia to study. Komang, who got into fishing during COVID, has become something of a barra addict.
"I caught the fish using live bait and was about to go home when I caught it," Komang said. "There were a few people watching on the wharf as I reeled it in and everyone was freaking out!
"I started fishing seriously during COVID and now I'm addicted. Whether it's really hot or raining, I'll still go fishing. I'm saving up to get my younger brother over to Australia from Bali to study, so I'll use my winnings for that."
Victorian angler Ranae Eels caught fish number eight on the same day in Bynoe Harbour while on a fishing charter with Barramundi Adventures. The Ballarat, Victoria, resident was celebrating her last day in Darwin with a day on the water before heading home.
"I can't believe I caught a red-tagged barra on my last day in Darwin," Ranae said. "I'll probably put the cash towards a boat and maybe a dog. We've been travelling around Australia and will head back home to Ballarat for Christmas, but we'll be back in the Territory next year to try and catch another tagged fish."
Each time a Season 8 $10,000 barra is caught, an additional $1,000 is given to an official Million Dollar Fish charity of the fisho's choice. Komang and Ranae both chose Cancer Council NT.
There are still 92 $10,000 barramundi swimming around Territory waterways, in addition to nine fish worth a million dollars. This includes the Season 8 Million Dollar Fish, plus the other big ones from previous seasons, which are still eligible to be caught. Prize-tagged barramundi have been released across the Tiwi Islands, Darwin, Katherine, Arnhem Land and Kakadu.