Another Million Dollar Fish 'Most Wanted' in the bag!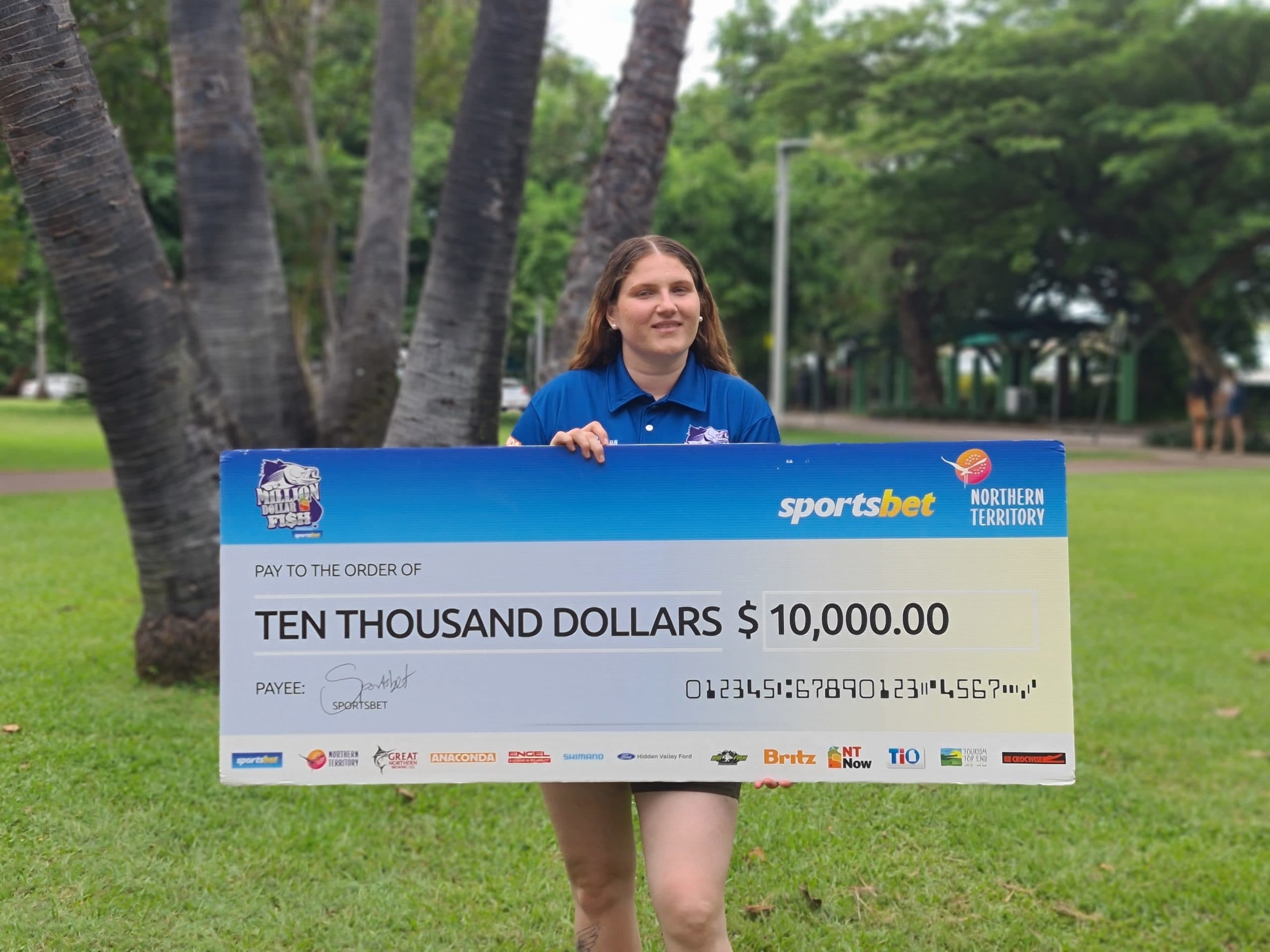 Jaylene Budd thought her knife was blunt when she couldn't slice through the barra she bagged on Sunday. But closer inspection showed the real reason for her struggle – a red tag worth $10,000. Jaylene is the latest lucky fisho to land a tagged fish as part of Million Dollar Fish Season 7. Underwritten by SportsBet, Million Dollar Fish is Australia's richest fishing competition. It sees scores of tagged fish released into the Top End's five iconic fishing regions – Darwin, Katherine, Kakadu, Arnhem Land and Tiwi Islands.
Jaylene, who has been hunting for Australia's Most Wanted fish for several seasons, is the 15th lucky fisho to land $10,000 from a Season 7 fish. She caught her 65cm fish while land-based fishing near the Finnis River boat ramp. While some tagged fish swim many kilometres, this one was hiding out just two kilometres from where it was released.
"I've been fishing since I was a kid and out fishing most weekends," Jaylene said. "I've registered for Million Dollar Fish for years, and my husband caught a $10,000 barra in 2017. I caught the fish, and a few others on Sunday, but just threw them all in the freezer without noticing the red tag. I didn't see it until I took the fish out to fillet it yesterday!"
For every $10,000 fish caught, the angler gets to donate an additional $1000 to the Million Dollar Fish-affiliated charity of their choice. Jaylene chose the Starlight Children's Foundation Darwin Star Ball, as her young son once spent three months in hospital.
Northern Territory Major Events CEO Tim Watsford said this season has turned out to be the biggest yet, with plenty of keen anglers joining the search for the ones that got away.
"What a season it's been! That's 15 fishos with an extra $10,000 in the bank thanks to Million Dollar Fish, the competition that rewards people for doing something they love in one of the most unique places in Australia," he said. "There are plenty of chances to bag a tagged barra yourself, with almost 100 fishy fugitives still swimming around out there."
Season 7 ends on 31 March 2022, but the eight fish carrying tags worth a million bucks remain active year-round. You MUST be registered for Season 7 to claim any cash. Registrations close on 31 March 2022.