Australia's richest fishing competition reels in million dollar dream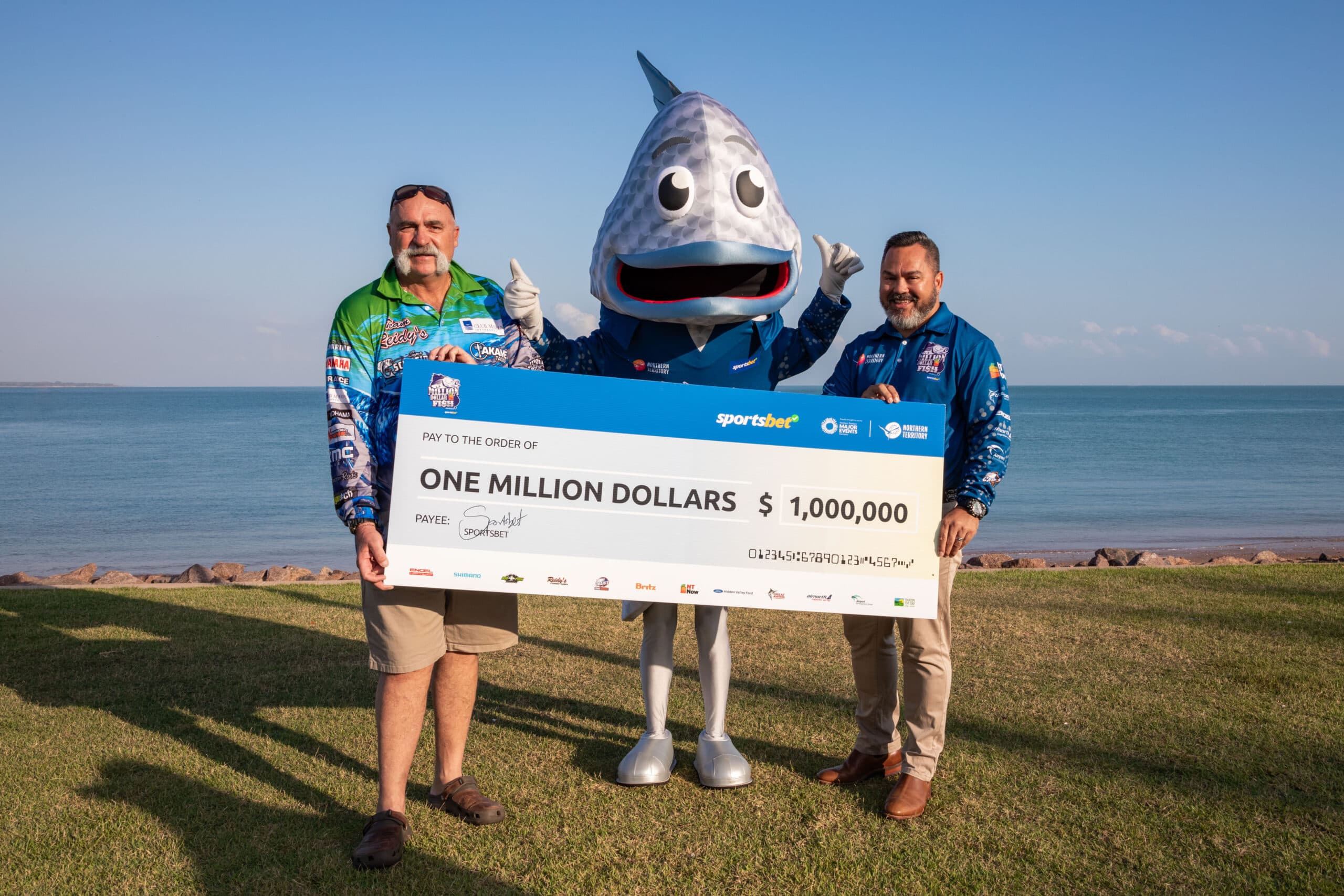 Australia's richest fishing competition, Million Dollar Fish, releases two barramundi worth a million dollars. This is for Season 9 of of the competition which opened on Sunday, 1 October 2023.
There's now 11 million-dollar barra swimming in the Territory's pristine waterways in the competition, underwritten by SportsBet.
Competition organiser Northern Territory Major Events Company (NTMEC) confirms a winner will take home a million dollars during Season 9. So now's the time to book a trip to the Northern Territory's Top End and wet a line.
Releasing two 'big ones' is the first in a raft of initiatives ensuring a lucky angler reels in a million bucks. We will reveal further initiatives as Australia's richest fishing competition progresses.
As well as the two fish carrying million-dollar red tags, 100 barramundi sporting a $10,000 tag were released across the Top End's pristine fishing regions of Darwin, Katherine, Kakadu, Arnhem Land and the Tiwi Islands. The Territory has some of the best fishing in the country with anglers able to fish creeks, billabongs, rivers and the blue water.
11 chances to catch a million dollars in Australia's richest fishing competition
We have paid out $925,000 to anglers since Million Dollar Fish began in 2015. This is for fishos who hooked a $10k red-tagged barra, with the million-dollar barra not reeled in, yet.
For Season 9, 11 barramundi with a million-dollar tag are eligible to be caught, meaning there's 11 chances to catch a million dollars. Once a million-dollar tagged fish is hooked, all other million-dollar tagged fish revert to $10K for the rest of Season 9.
NTMEC delivers Million Dollar Fish on behalf of the Northern Territory Government. NTMEC CEO Suzana Bishop expects record-breaking registrations for the biggest prize pool yet.
"We saw record registrations for Season 8, and the most fish caught – 20!," Mrs Bishop said. "With enthusiasm for Season 9 so high, thanks to the promise the million will go off, it looks set to be even bigger.
"More than 16,000 eager anglers have already registered for free, and many are from interstate. This is great news for the Territory as they head here to enjoy the holiday of a lifetime."
Season 8 of Million Dollar Fish reels in big bucks
Season 8 of Million Dollar Fish generated a total expenditure stimulus of $70.8 million, 33.3 per cent ($23.6 million) of which was new money to the Top End region.
It also delivers for the community, with winning fishos able to donate $1,000 to an Official Charity Partner when they snag a $10,000 barra.
A further $10,000 will be donated to an Official Charity Partner when a Million Dollar Fish is reeled in. Official Charity Partners are Cancer Council NT, Shoreline, Starlight Children's Foundation Darwin Star Ball and Riding for the Disabled Association Top End.
SportsBet NT Operations and Partnerships Manager Thijs Bors said the competition has lured in anglers from all over the world.
"The Territory has the best fishing, the best people and the best lifestyle. It also offers you the chance to catch a million dollars. Why would you go anywhere else on holiday?" he said.
Only those registered for Season 9 can claim any cash from a red-tagged barra.