Australia's richest fishing competition keeps reeling 'em in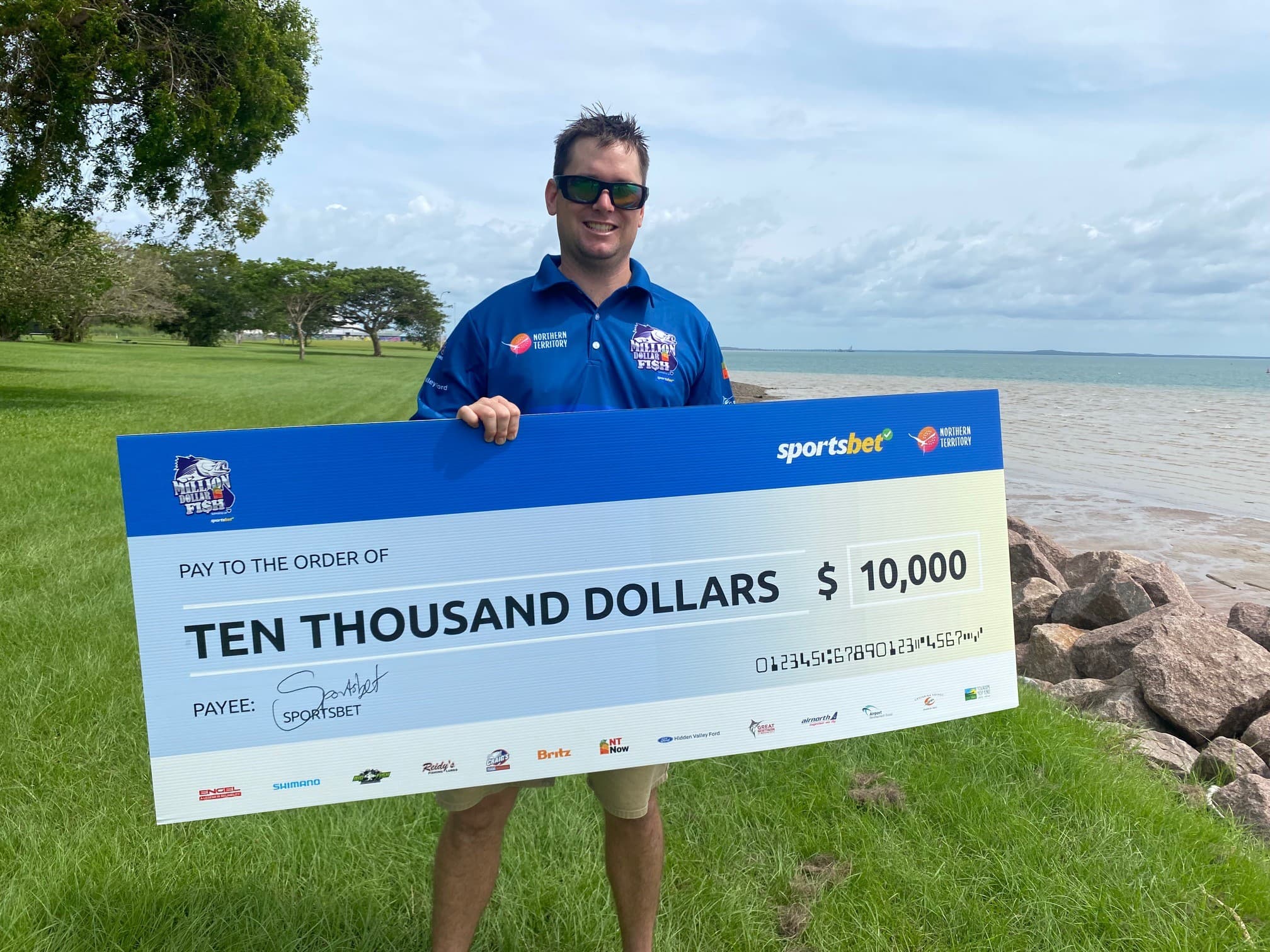 Lucky fisho Timothy O'Hagan has found himself $10,000 richer after landing a tagged fish as part of Australia's richest fishing competition. Season 8 of Million Dollar Fish, underwritten by SportsBet, has seen 17 fish caught and $180,000 paid out to lucky fishos, smashing all records with more fish caught and more money won than any other season.
Timothy is the first fisho to catch a red-tagged fish this year. He bagged his 70cm catch at Fisherman's Wharf on 7 February, not far from Sadgroves Creek where it was released. A proud father of two, the Karama resident looks forward to using the money to pay off his boat, and spoil his family.
"I've registered for every Million Dollar Fish season, and often go down to Fisherman's Wharf for a quick cast when the kids are asleep," Timothy said. "It wasn't until I got home and checked with my wife that the tag was for Season 8 that I really got excited. I had to be careful not to wake the kids up, but inside I was like, 'yes'!"
Every time a $10,000 fish is caught, the winning fisho gets to donate an extra $1,000 to a Million Dollar Fish charity of their choice. Timothy chose the Starlight Children's Foundation. Three Territory charities have shared $18,000 so far.
There's still plenty of time to go before the end of Season 8 of Australia's richest fishing competition on 31 March 2023, and 83 $10,000 fish waiting to be caught, plus nine fish carrying a tag worth a million bucks. In addition, this month is Fisho Feb, with a range of additional incentives to register and get out on the water.
Register now and find out what's happening with Fisho Feb by following Million Dollar Fish on Facebook or @million_dollar_fish on Instagram