Big pay day for Territorian in Australia's richest fishing competition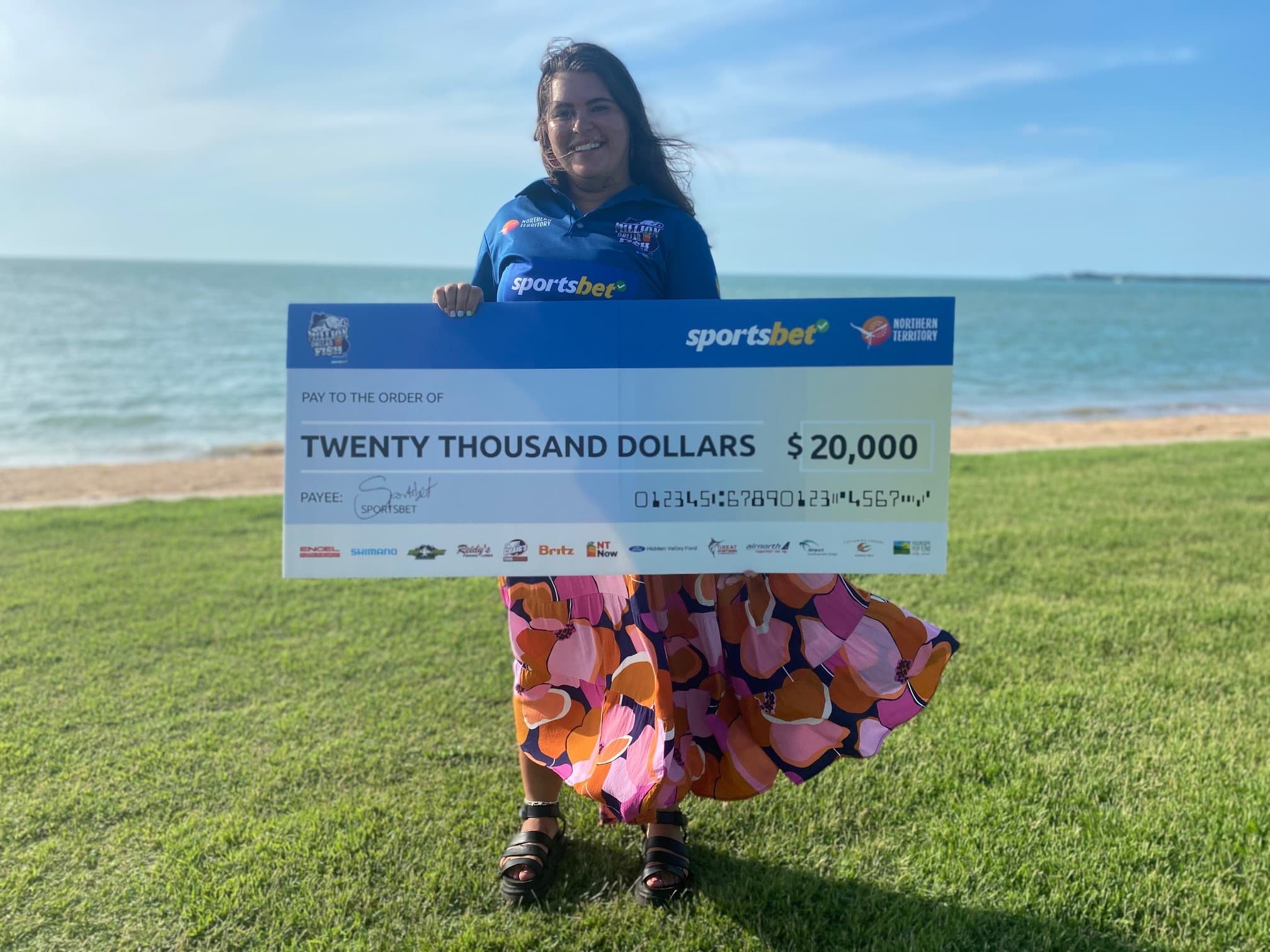 It was a big pay day for local fisho Nicole Soltesz. The Territorian reeled in a cool $20,000 after hooking a Million Dollar Fish Season 8 red-tagged barramundi.
Carrying a $10,000 red tag, the fish was worth double the money as part of a National Gone Fishing Day promotion, with competition underwriter SportsBet pledging to 'Double the Dough' for any fish caught on Sunday, 9 October.
Nicole was out fishing with mates at Hardies Lagoon when she snagged the 62cm prize-tagged fish – her first ever barramundi! The Darwin fisho said she'd put some of the winnings towards a holiday, and the rest away in a savings account for now.
"I don't go fishing very often so definitely wasn't expecting it. It was a big surprise, we all looked at each other in shock when we saw the red tag," she said.
There has never been a better time to register for Australia's richest fishing competition and wet a line in the Territory, with prize-tagged fish swimming in waterways across the Top End.
Season 8 off to a strong start
NTMEC Head of Events and Operations Coryn Huddy said Season 8 was off to a strong start. "It's certainly an exciting time in the Territory with excellent fishing conditions," he said. "There are more chances to catch the Million Dollar Fish and an incredible offering of tourism experiences the whole family will love."
The amount of cash up for grabs as part of Season 8 is the largest ever. Nine fish worth a million dollars are in five fishing regions – Tiwi Islands, Darwin, Katherine, Kakadu and Arnhem Land. This includes the Season 8 Million Dollar Fish, as well as those from every other season, which are still eligible to be caught.
Registered anglers also have the chance to bag one of the remaining 98 $10,000 barra, with two caught so far. Each time a $10,000 fish is caught, an extra $1,000 is donated to one of the official Million Dollar Fish charities, as nominated by the lucky angler. SportsBet doubled the charity money for this fish, and Nicole decided to give the $2,000 to the Starlight Children's Foundation.
Darwin Star Ball Committee Chairman Justin Coleman said he was very thankful to Nicole Soltesz and all those involved with Million Dollar Fish Season 8.
"Starlight provides vital hospital programs in the Northern Territory for our sick kids," he said. "Only with the help of the local community can we continue to bring the gift of joy, fun and laughter, helping to create brighter and healthier futures for our kids, families and communities."
Odds in fisho's favour for Australia's richest fishing competition
SportsBet NT Operations and Partnerships Manager Thijs Bors said the odds are definitely in the fisho's favour for Season 8. He said there are more red-tagged Million Dollar Fish out there than ever before.
"It's prime time for barra fishing at the moment," he said. "So I'd encourage as many people as possible to register for Australia's richest fishing competition and explore our world-class fishing regions for the chance to score a million bucks!"
Million Dollar Fish Season 8 opened on 1 October 2022 and runs through until 31 March 2023. To be eligible for any prize money, anglers must have registered for Season 8. By doing so, participants go into the monthly Lucky Prize Pool. This includes thousands of dollars' worth of incredible prizes such as holidays, flights, and fishing and camping equipment.
For more info and to register, visit www.milliondollarfish.com.au.