Big pay day for Top End fishos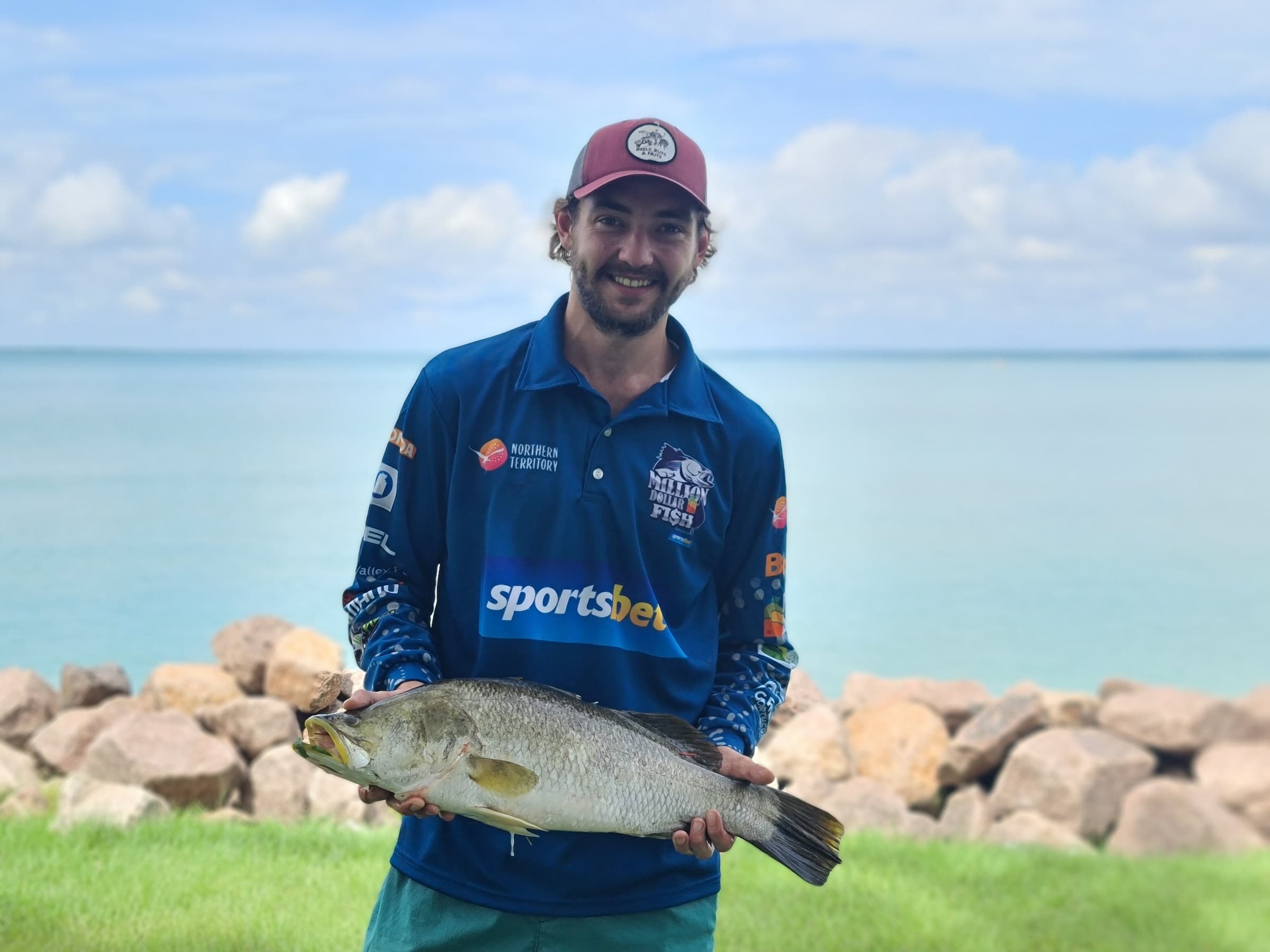 Two Territory fishos have earnt themselves a $10,000 cash bonus each, after hitting the water in the hope of reeling in Australia's Most Wanted Fish – the Season 7 Million Dollar Fish.
While they weren't successful in trapping the lucrative red-tagged runaway worth a million bucks, the fishos managed to locate two of the boss barramundi's $10,000 accomplices on Sunday.
Josh James of Acacia Hills landed a 90cm fishy suspect while out with family members on Adelaide River. He looks forward to purchasing his kids a couple of motorbikes with his winnings. He will donate his additional $1,000 to the Starlight Children's Foundation Darwin Star Ball.
"There was a fair bit of cheering and yahooing when we saw the red tag," he said. "It was so easy to sign up to Million Dollar Fish – it's a pretty cool concept, going fishing in the NT and getting cash for free."
Another Acacia Hills resident, Jarryd Price, also found himself with a red-tagged barra in his esky on Sunday. He was land-based fishing with a friend at Daly River using a handline when he bagged his 64cm suspect. It wasn't until later on in the day, when the two were cleaning and filleting the fish, that they noticed the red tag covered in algae. Jarryd has opted to give his additional $1,000 to Cancer Council NT.
"I've registered for Million Dollar Fish for a few seasons now, but never really thought I'd be lucky enough to get a red-tagged fish," he said.
After the 'Australia's Most Wanted Fish' campaign launched earlier this month, fishos have hit Top End waters in droves to track down the Season 7 Million Dollar Fish, who is still on the swim. Authorities have made fresh calls for the community to join in the search and catch the head fishy fugitive, along with seven of his scaly relatives who also carry cash rewards of $1 million. Around 98 other Season 7 gang members remain at large and are worth $10,000.
Tim Watsford, CEO of Northern Territory Major Events Company, organiser of Million Dollar Fish, said search efforts have stepped up a notch with just a few weeks left of Season 7.
"Through Australia's Most Wanted Fish we are encouraging as many fishos as possible to register, experience our world-class fishing and hopefully bag the Season 7 Million Dollar Fish," he said.
"There's plenty of time to get involved, so wet a line in the Top End today for your chance to become a million bucks richer."
Fishos are reminded the Season 7 $1 million fish was last seen wearing a red tag in Darwin Harbour, and to register their details for free before wetting a line. If you aren't registered, you cannot claim the cash reward if you land a red-tagged runaway.
'Australia's Most Wanted Fish' is part of the Million Dollar Fish competition, underwritten by SportsBet. The eight fish carrying a $1 million reward can be caught year-round, but you MUST be registered by 31 March 2022 to claim the cash. The $10,000 fish are only active until 31 March 2022, the end of Season 7. Once the first Million Dollar Fish is caught, cash rewards for the remaining seven head fugitives decrease to $10,000 each until the end of March, or become null and void if the Big One is caught between April and September.