Double the Dough back for Season 9 as fifth fish caught!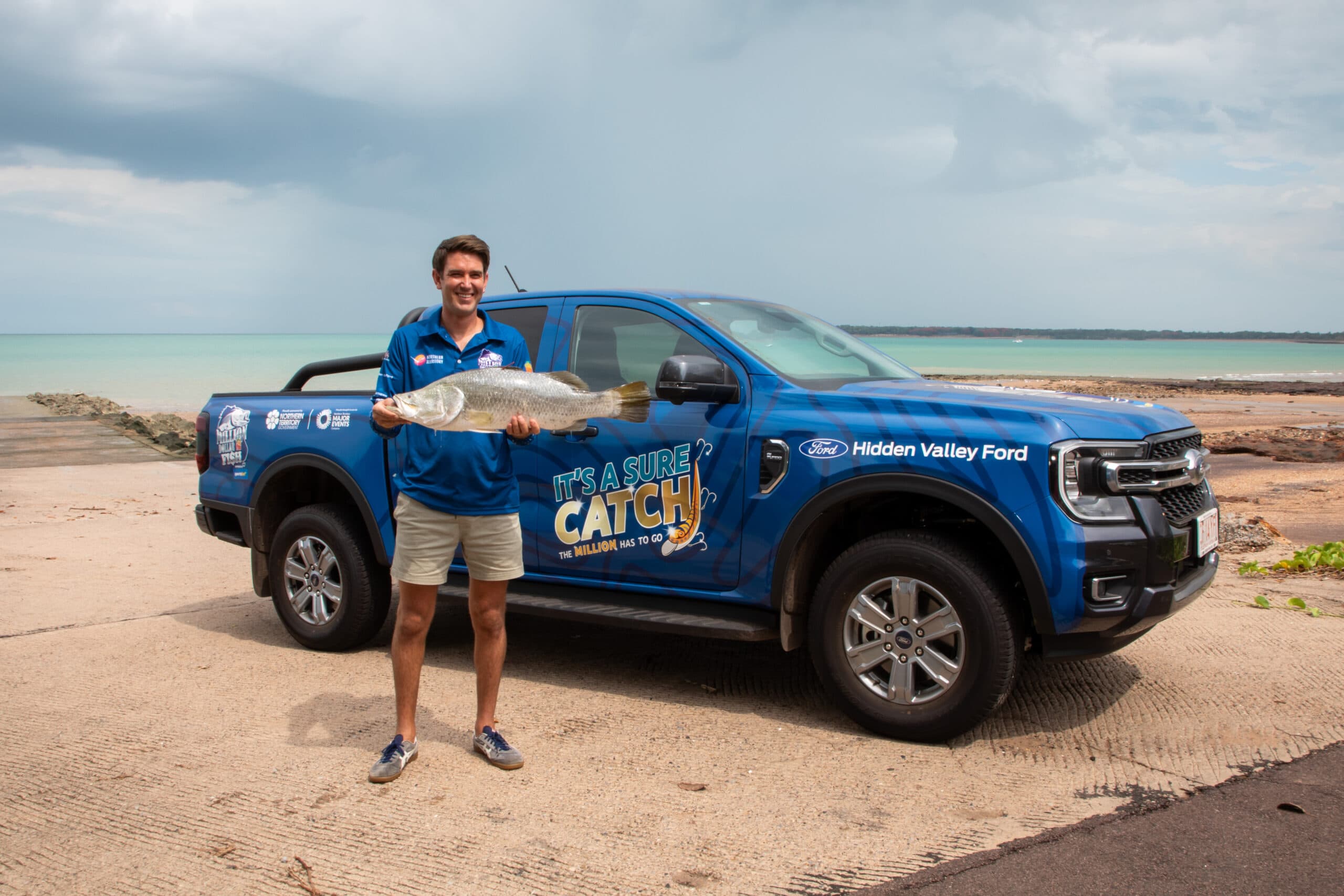 Pack your tackle box and get ready to hit the water this weekend – Double the Dough is back for Million Dollar Fish Season 9, supported by SportsBet! The return of Double the Dough comes as a fifth $10,000 fish was reeled in on Wednesday by lucky fisho David Anker.
Double the Dough is a favourite among fishos. The initiative means whoever reels in the first $10,000 Season 9 red-tagged barra between 12am on Saturday, 18 November and 11.59pm on Sunday, 19 November 2023 will receive $20,000 instead of $10,000. The fisho MUST be registered for Season 9 and Double the Dough does not apply to the 11 fish carrying tags worth a million bucks.
DAVID REELS IN THE CASH
David, moved to the Territory from New South Wales with his family in January. Fishing on his own at Woods Inlet, he bagged the 85cm barra sporting a red tag. The fish was released at Milne Arm in Bynoe Harbour, a whopping 78km away. David said he was excited to show off his prized catch to his southerner mates about to visit.
"It's really exciting I almost see it (winning $10,000) as a bonus, I feel like you don't need a huge amount of incentive most of the time to be fishing up here, because the fishing is amazing but also if you're not catching fish there's so much amazing stuff to see. I've seen some incredible wildlife out there even when I'm not catching fish," David said.
"It's a pretty nice bonus to have $10,000 for catching a fish and it's actually the biggest barra I've caught even without the tag. When I pulled it in I was excited about the fish before I saw the tag and even without the tag it would have been a great day.
"Probably the first thing that went through my head was that it might cover my fuel bills for burning across the harbor all year in an old two stroke.
"I think that's the other reason why some of my Darwin friends will be particularly excited is because I'm not a great fisherman. I've spent so many hours out there not catching fish, but I do love it anyway. This (winning $10,000) does mean that I might break even for a year of fishing."
Every time a fisho catches a $10,000 barra, they can donate an extra $1,000 to the Million Dollar Fish charity of their choice. David chose Shoreline.
DOUBLE THE DOUGH RAISES THE STAKES
SportsBet NT Operations and Partnerships Manager Thijs Bors says SportsBet is thrilled to once again be raising the stakes and offering up $20k to the angler who snags the first $10k barra caught this weekend.
"Remember, there are still 11 million-dollar barra out there in Top End waters. This is the greatest and richest fishing comp in Australia, and we can't wait to give away the million," he said.
Five lucky fishos have now bagged themselves a $10,000 barra since Season 9 began on 1 October 2023. There are still 95 red-tagged $10,000 barra out there; plus the 11 sporting the big million-dollar tags. Tagged barra have been released in each of the Top End's world-class fishing regions including Tiwi Islands, Darwin, Katherine, Kakadu and Arnhem Land.