First red tag in the bag for Million Dollar Fish Season 8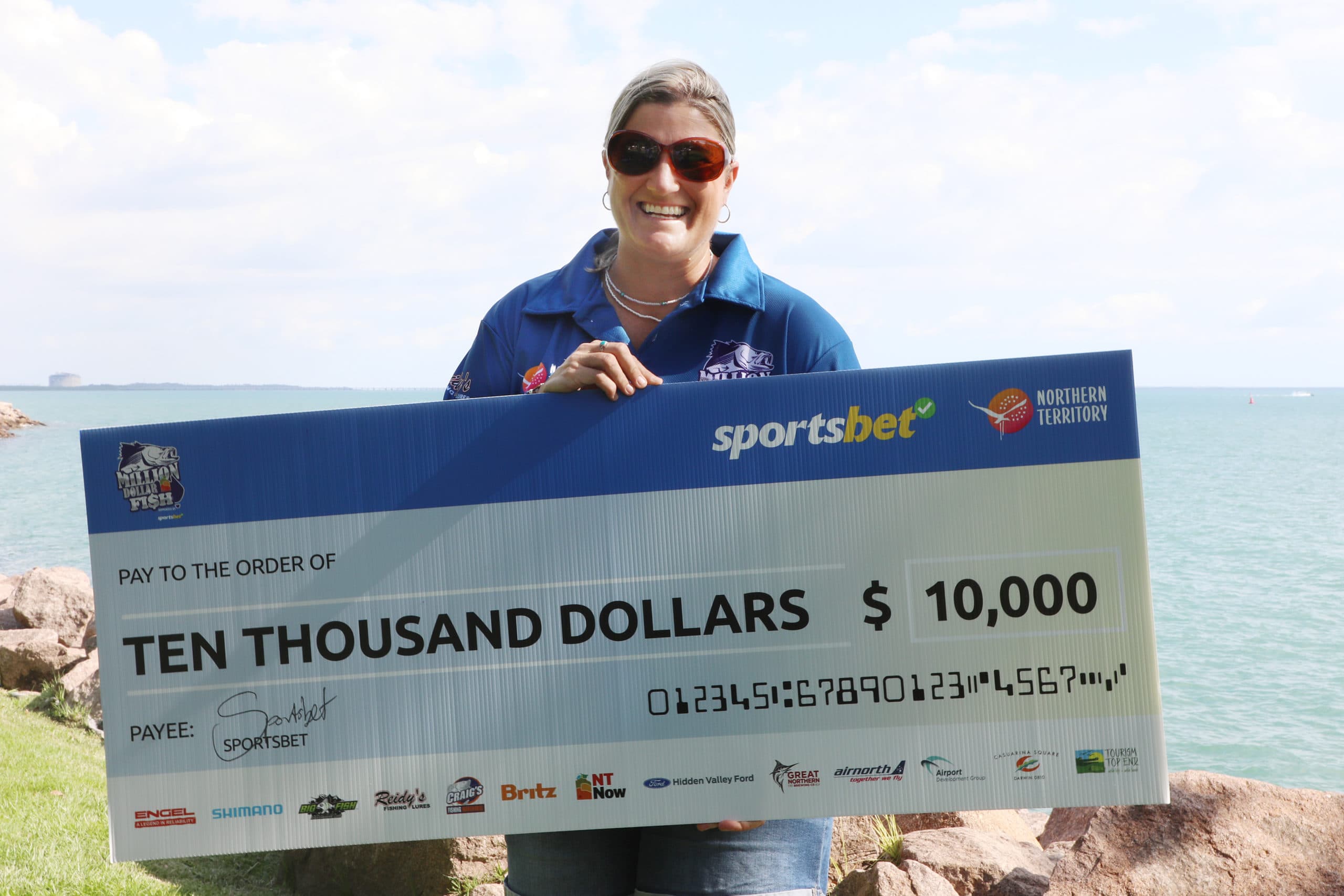 First red tag in the bag for Million Dollar Fish Season 8
Territorian Sharna Brennan has found herself $10,000 richer after reeling in the first red-tagged barramundi as part of Million Dollar Fish Season 8, underwritten by SportsBet.
The keen fisho reeled in the 90cm prize-tagged barramundi at Manton Dam on Thursday, 6 October. Sharna said she'll put the money away for a rainy day, but admitted the winnings would likely be spent on new fishing equipment eventually.
Luck seems to run in Sharna's family, with her husband catching the first ever $10,000 fish of Million Dollar Fish back in Season 1. His prize-tagged barramundi was reeled in from Darwin Harbour.
"It was very exciting – we saw the red tag as we were netting it," Sharna said. "There were a few screams, that's for sure! We'll put the money away in a bank account for now, but it will probably end up going on some new fishing equipment."
This season's prize purse is the biggest yet, with nine barra worth a million bucks each now released in Top End waterways. This includes the one from Season 8, and those from every other season, which are still eligible to be caught. There are also 99 $10,000 barra waiting to be caught by registered anglers. For every $10,000 fish caught, an extra $1,000 is donated to one of the official Million Dollar Fish charity partners. Sharna chose Cancer Council NT.
"At Cancer Council NT we know that screening and early diagnosis saves lives," said Cancer Council NT CEO Tanya Izod. "This donation will go directly to funding our new cervical cancer screening clinics which provide screening and cancer prevention training to women across the Northern Territory. A huge thank you to Million Dollar Fish for supporting Cancer Council NT again this year and the best of luck to all our fishermen and women out there."
Season 8 of the Million Dollar Fish competition runs from 1 October 2022 to 31 March 2023. To claim any prize money from a tagged fish, you must be registered for Season 8. This also automatically enters you into the monthly Lucky Prize Pool, which includes thousands of dollars' worth of prizes, including holidays, flights, and fishing and camping gear. Register now for free at www.milliondollarfish.com.au.