First red-tagged barra caught just three hours into Season 9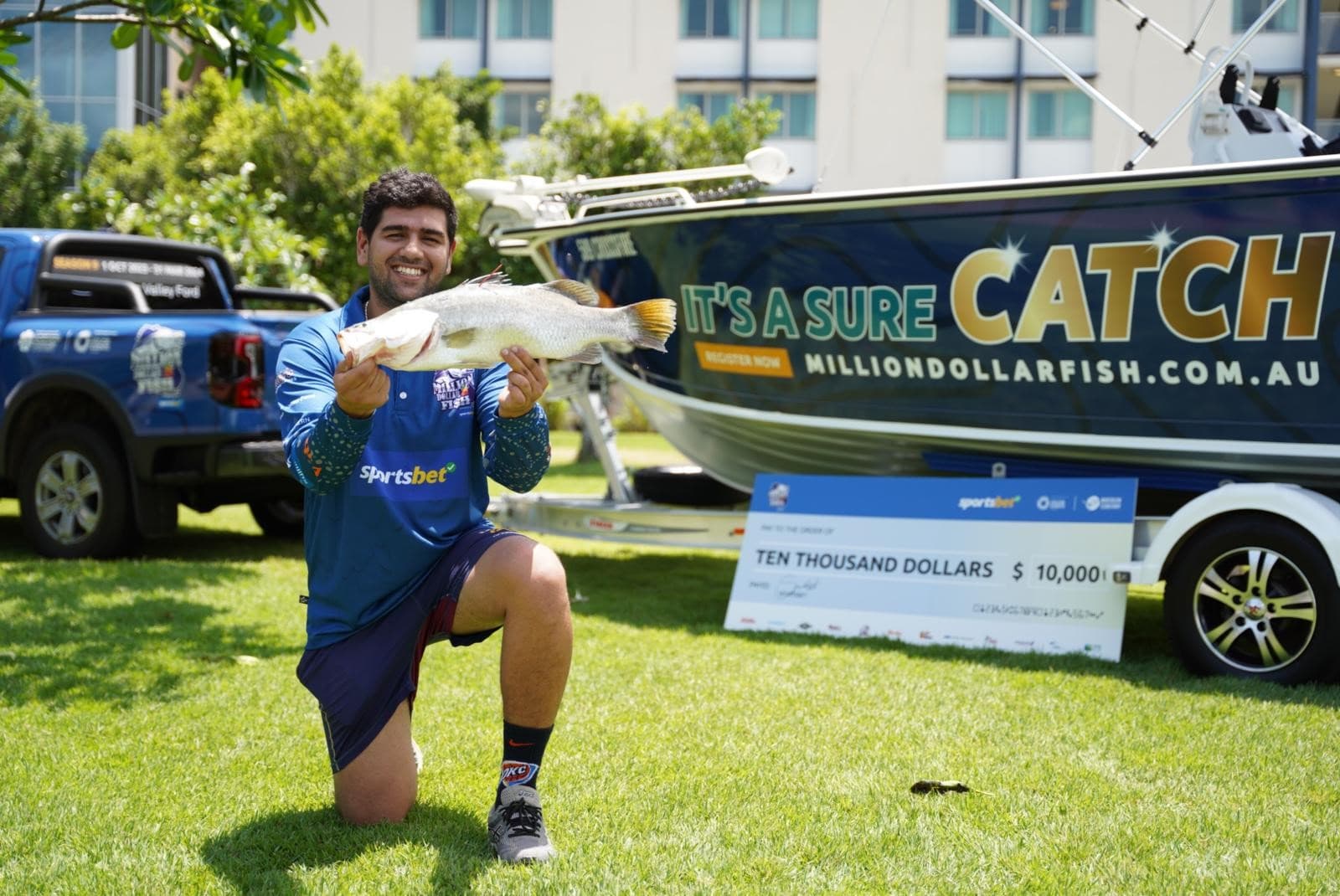 The barra are really biting for Million Dollar Fish, with one lucky angler hooking the first catch of the season within hours of Season 9 of the fishing competition beginning!
Zain Lopez was fishing at Stokes Hill Wharf by the Darwin CBD at 3am on 1 October 2023 when he hooked himself a red-tagged barra worth $10,000.
"I've fished that spot so many times and couldn't believe it when I reeled in a barra with a red tag! My partner and I were speechless," he said. "I caught the fish on my second cast. I go fishing most weekends when I can, and there is even more incentive and motivation to get out and wet a line now thanks to Million Dollar Fish. I'll keep on fishing for more red-tagged barra!"
Bag $10k or a million bucks
The Million Dollar Fish fishing competition offers anglers the chance to bag $10,000 or become a millionaire by catching a red-tagged barra. With the million guaranteed to be reeled in this year, there's never been a better reason to fish the Top End. Tagged fish have been released across the Territory's main fishing regions – Darwin, Kakadu, Tiwi Islands, Arnhem Land and Katherine.
Each time a $10,000 barra is caught, the lucky fisho can donate an additional $1,000 to a Million Dollar Fish Season 9 Official Charity Partner. A further $10,000 will be donated to an Official Charity Partner when a Million Dollar Fish is reeled in. Official Charity Partners are Cancer Council NT, Shoreline, Starlight Children's Foundation Darwin Star Ball and for the first time, Riding for the Disabled Association Top End. Zain chose Starlight.
Season 9 of Australia's richest fishing competition began on 1 October 2023 and runs until 31 March 2024. Remember, you must be registered for Season 9 to claim the prize money if you catch a red-tagged barra.
This also automatically enters you into the monthly Lucky Prize Pool. Epic prizes include return airfares to Darwin with Airnorth, Britz campervan getaways, Great Northern vouchers, Engel goodies, Shimano Fishing Packs and more. Register for free here.