Fishos continue to cash in with red-tagged fish frenzy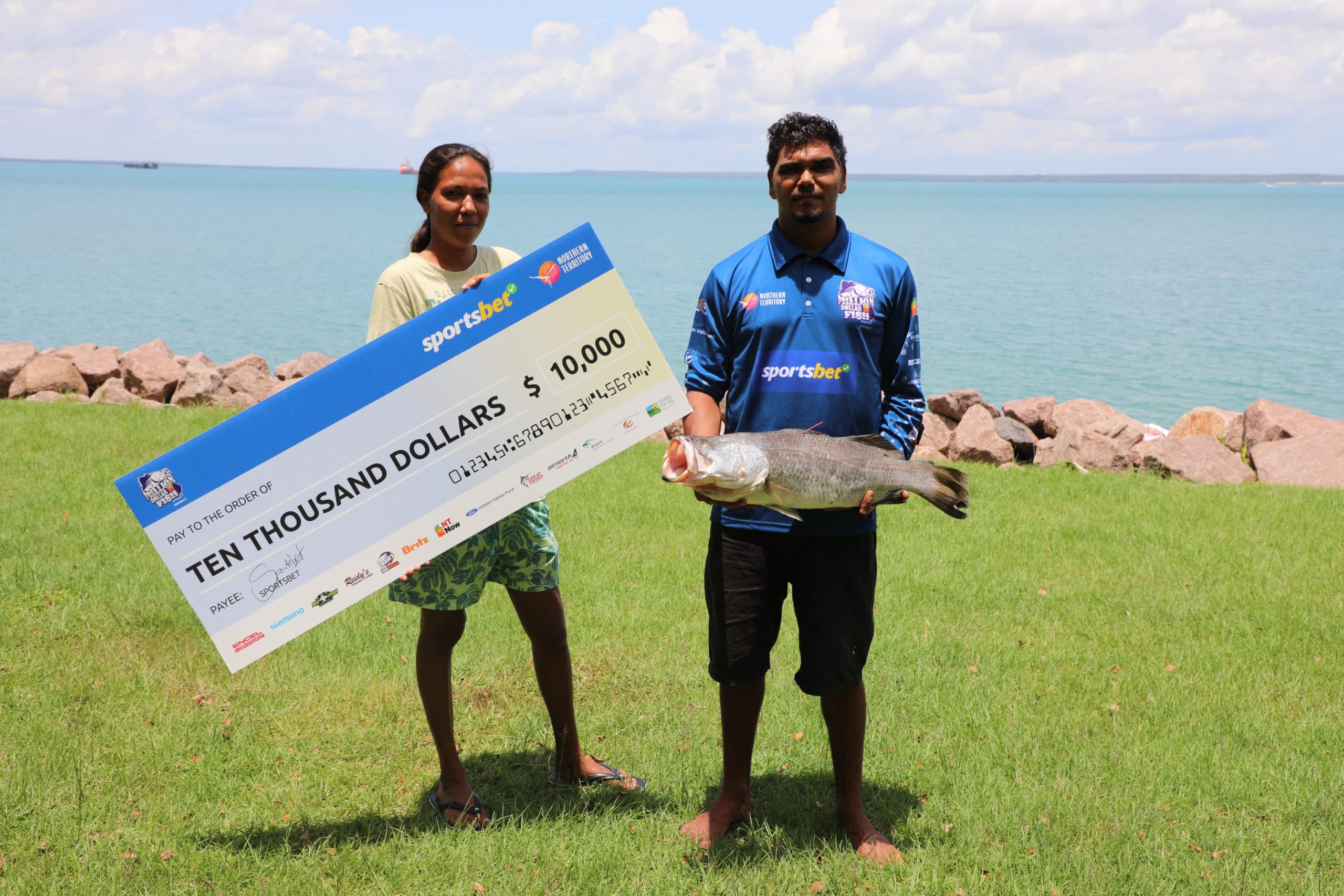 It's raining red-tagged fish in the Top End, with two more prize-tagged barramundi reeled in during Season 8 of Australia's richest fishing competition, Million Dollar Fish.
Daly River's Darryl McLeod hooked his 76cm barra while land-based fishing at the Daly River Crossing on Thursday, 13 October. Worth a cool $10,000, Darryl said he plans to put the cash towards a boat. Luck seems to be on Darryl's side – he bagged a $10,000 barra last season as well. His partner Kaitlyn Ahfat is also a winner, having reeled in her $10,000 catch back in Season 6. All three tagged fish caught by Darryl and Kaitlyn were caught at Daly River Crossing.
"I was so happy and excited when I saw the red tag," Darryl said. "I'm going to put the cash towards a new boat and hopefully go catch the Million Dollar Fish!"
Darryl's was the third fish caught in Season 8, and was closely followed by fish number four, caught by Kurt Williamson of Dundee Beach. He hooked himself a 56cm, $10,000 barramundi in Bynoe Harbour on Friday, 14 October. Kurt, a self-confessed barra addict, said he plans on putting his money away for Christmas time. A professional fishing guide, Kurt was stoked to finally get his own red tag in the bag after witnessing one of his Queensland-based clients reel in a Season 7 $10,000 fish in March earlier this year.
"I've been trying to catch a red tag for years – I've always registered for Million Dollar Fish but never thought I'd catch one," Kurt said. "I was very surprised when I saw the tag. I'm not too sure what I'll put the money towards yet, but it's a nice little bonus in time for Christmas."
Each time a Season 8 $10,000 barra is caught, an extra $1,000 is given to one of the official Million Dollar Fish charities, as nominated by the winning fisho. Darryl decided to give his cash to Cancer Council NT, while Kurt opted to donate his $1,000 to the Starlight Children's Foundation.