Is this the final winning barra of Territory fishing comp's Season 8?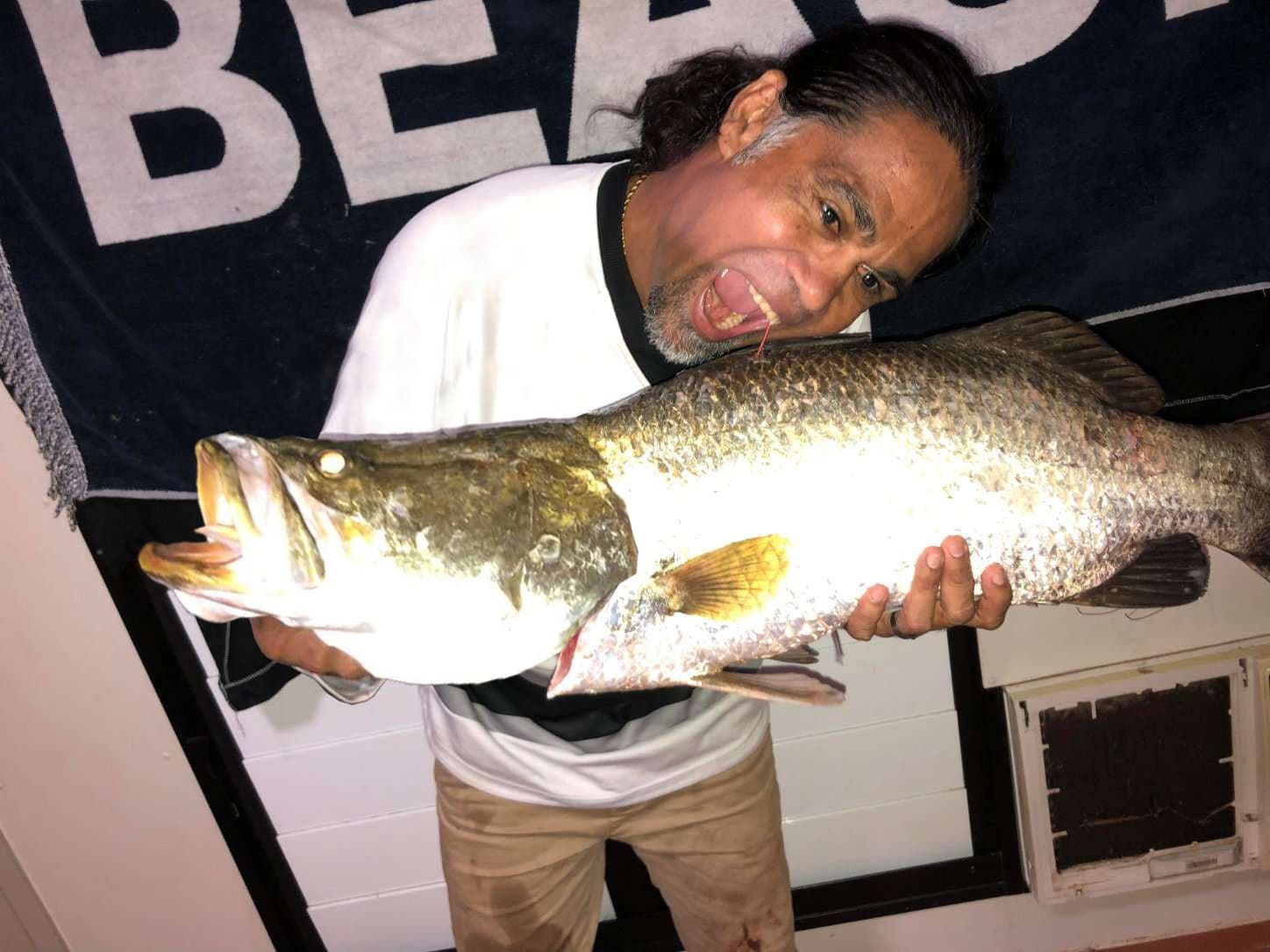 Season 8 of Territory fishing comp, Million Dollar Fish, has been the biggest ever and, with just hours to go to the end of the season, ecstatic Borroloola resident Asman Rory landed a $10,000 barra.
Asman went night fishing on Wednesday to catch a meal for his family at his favourite secret spot near the McArthur River Crossing. He ended up hooking the 90cm winning fish, which is the 20th fish of Season 8.
With a fading torch battery, Asman didn't realise he had bagged a $10,000 barra until hours later when he ran into some friends who started inspecting his catch. He didn't believe it was a winning tag until he scratched back the algae and saw it was red.
With adrenaline pumping, Asman called his partner to share the good news, before racing home to celebrate in person. He hopes to use the money to buy a car for his family.
"I went to this favourite spot and I always catch barra in it, but this time it was different. I felt something different," Asman said.
"So I called out to the land like I always do, to the ancestors. When I first got down there I started flicking around, and I caught a small one. So I asked the ancestors for one more, you know, only one more I asked for, and that was the $10,000 barra. It means the world to me and my family that this has happened.
"Our fishing is the best. You know, just protect our waterways, our environment, and pick our rubbish up. Keep our pristine environment clean and rubbish-free for future generations."
Asman chose Shoreline, an education program that provides career pathways for young Indigenous Australians, to receive his $1000 charity donation.
Season 8 of Million Dollar Fish gives out largest amount of cash
Season 8 has seen the largest amount of money given out in the history of Million Dollar Fish. In total, 20 winning fishos have shared $230,000.
Northern Territory Major Events Company (NTMEC) delivers the Territory's popular fishing competition, underwritten by SportsBet.
There's also still time to become a millionaire, with all nine fish carrying tags worth a million bucks eligible to be caught year-round. To claim any cash, you MUST be registered for Million Dollar Fish Season 8. All $10,000 fish cease to be active at 11.59pm tonight. Registrations also close.
Register now for free.