Last cast of the day sees local fisho cash in with $10k barra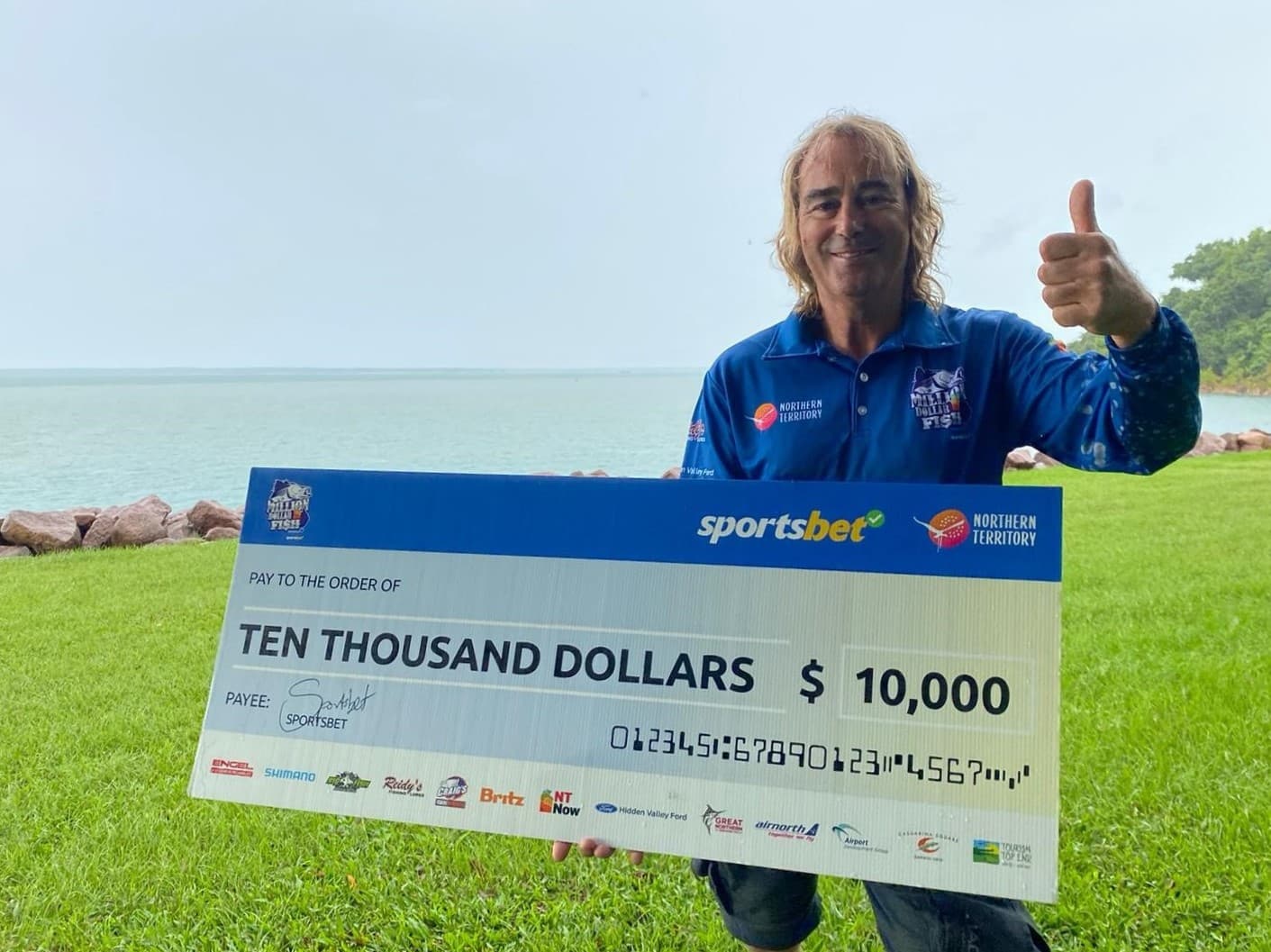 A Top End fishing trip with a mate from down south has seen Territorian Colin Carthew win $10,000. He cashed in after reeling in a red-tagged barra on the last cast of the day.
The two fishos wet a line near Talc Head at Woods Inlet on Friday, 25 November. Colin snagged the lucrative 62cm catch as part of Million Dollar Fish Season 8. This was before swiftly making their way back to the Darwin Ski Club boat ramp to beat the tide.
The Darwin-based angler said it was s challenging fishing trip, but well and truly paid off in the end. "The tides weren't very good but we decided to head out and try our luck. I couldn't believe it when we got the fish on the last cast – we weren't sure if it was worth $10,000 or a million," he said.
"When we got back to the boat ramp at the museum there was no tide, so we had to unhitch the trailer and bounce the tinny over the rocks back onto the trailer, damaging the jockey wheel in the process. It took over an hour, but it was worth it for a red-tagged barra."
A keen fisho, Colin said he'll put the money towards purchasing new video camera equipment.
Season 8 prize money biggest in competition's history
Widely known as Australia's richest fishing competition, Million Dollar Fish has already seen 15 anglers reel in prize-tagged barramundi as part of Season 8. Competition underwriter SportsBet has paid out a total of $160,000.
The amount of prize money up for grabs as part of Season 8 is the biggest in the history of the competition, with a whopping nine barramundi worth a million dollars now released in five fishing regions – Tiwi Islands, Darwin, Katherine, Kakadu and Arnhem Land. This includes the Season 8 Million Dollar Fish, in addition to those from every other season, which are still eligible to be caught.
Eighty-five Season 8 $10,000 barra are still swimming around Top End waterways. Each time a $10,000 fish is caught, an extra $1,000 is donated to one of the official Million Dollar Fish charities, as nominated by the lucky angler. Colin gave his $1,000 to Cancer Council NT.
Northern Territory Major Events Company (NTMEC) Head of Events and Operations Coryn Huddy said now is an ideal time to visit the Territory. It's also an opportunity to explore the Top End's world-class fishing regions for the opportunity to bag a red-tagged barramundi.
"The concept is simple," he said. "Jump online, register for free and then wet a line for the chance to become a millionaire. Plus, you'll also go into the monthly Lucky Prize Pool to win epic prizes and experiences from Million Dollar Fish partners," he said.
Million Dollar Fish Season 8 opened on 1 October 2022 and runs through until 31 March 2023. To be eligible for any prize money, anglers must have registered for Season 8.
For more info and to register, visit www.milliondollarfish.com.au.