Q&A with HeliFish Pub Crawl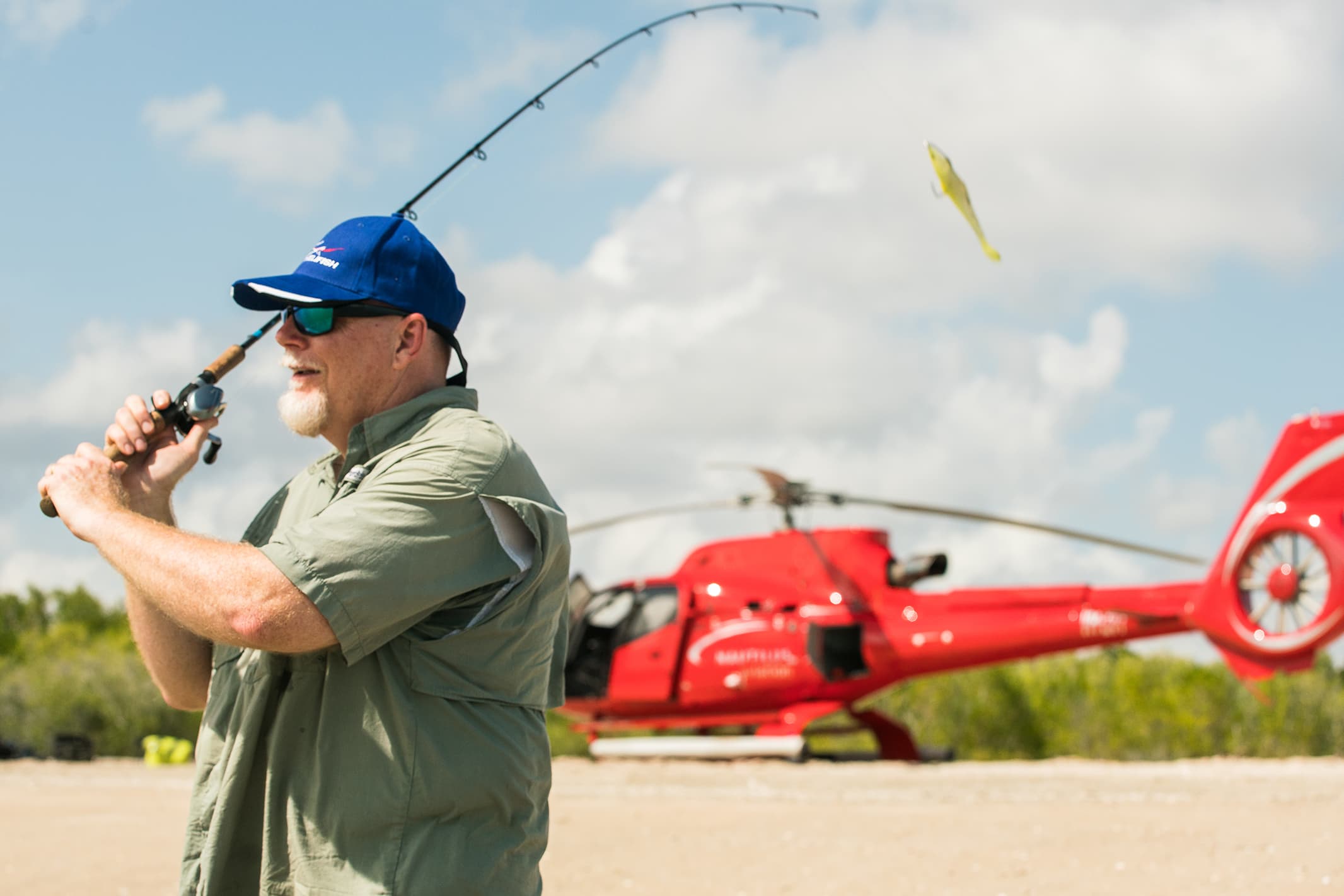 Darwin-based HeliFish has been operating in the Territory since 2008. HeliFish has a whopper of a deal where if you travel with them during Season 6 and catch a $10K Barra they'll double your money with a bonus $10K! We chatted to HeliFish Pilot/Fishing Guide Shaun Wild to find out more.
Which fishing season is your favourite?
The run-off, probably no surprises there, but the activity stirred up by the sheer volume of water on the flood plains and in the estuaries turns fishing into catching most days. As a fishing guide having guests with tight lines all day makes this job very hard to beat.
Where's your favourite fishing spot in the Territory?
My #1 pick would have to be Anson Bay. The remoteness of the area means we rarely see anyone else and the fish stocks are consistently high with great variety. More of our customers have reeled in their bucket-list "metery" in this area than anywhere else we visit. Fishing aside, the scenic flight out to Anson is often a real life Attenborough-style documentary unfolding before your eyes. There are days it must be one of the most spectacular landscape and wildlife displays in Australia. I've watched dingos chasing pigs, large herds of water buffalo, enormous crocodiles and sharks, all from the air, as well as brolgas and jabiru stalking prey in the wetlands and kites soaring on the thermals. Definitely do not forget your camera (and a spare memory card or two).
Why do you think so many people come up to the Territory to chase barra?
Territorians are renowned for their welcoming, laid-back nature. No-one is in a hurry. There's always time for a chat plus the barra fishing just happens to be the best in Australia! The fishing options are endless and there is no shortage of quality operators keen to share their secret spots with you.
What's your go-to fishing hack?
Don't skimp on quality lure. My go to right now are Flat Shads and Live Mullet Lures from Zerek … woompa, you're on!
What's your most memorable catch?
Without a doubt the excitement of helping a customer land a tagged Million Dollar Fish barra. Spending the remainder of the day not knowing the value of the tag until we got back to civilisation was something none of us will forget in a hurry. Unfortunately, it was the one that got away! A $10K fish and 4 weeks past Season 5's end date, but what an experience just the same and it certainly has the lads itching for Season 6 to arrive again.
What's your bucket list fish?
The one with the million dollar tag in it, of course.
What Million Dollar Fish product are you offering for Season 6?
Travel with HeliFish during Season 6, catch a $10K Barra and we'll double your money with a bonus $10K! Clients can either take a half-day or full-day HeliFish tour or a HeliFish-Pub Crawl Combo.
Why should people visit the NT during the Wet Season/Tropical Summer to catch barra?
In the Wet Season, everything is so green and alive and the barra are out in numbers, you rarely miss out. Sure it's hot, it's sticky but there is literally an electricity in the air. It's the greatest show on earth, watching and listening to a tropical storm roll by and enjoying a cold beer after a great day's fishing.
Check out HeliFish's Million Dollar Fish tour here on our Fishing Experiences page.