QLD fisho cashes in through country's richest fishing comp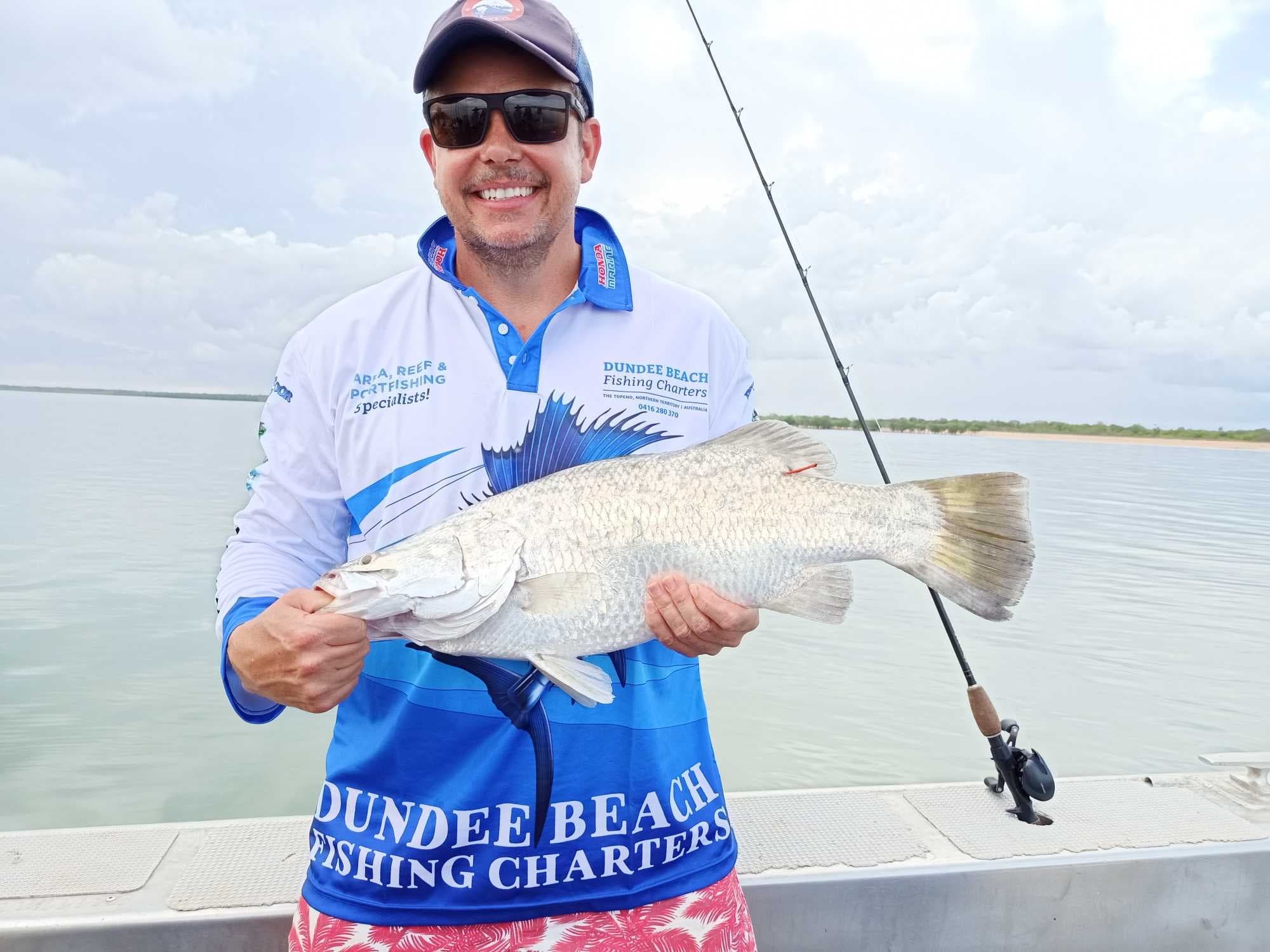 The Northern Territory's Million Dollar Fish competition has delivered once again, with Queensland's David Nolan the latest angler to win big through the iconic Top End initiative underwritten by SportsBet.
Caught on Sunday, 7 November at Fog Bay with Dundee Beach Fishing Charters, the 68cm Season 7 fish will see David take home a cheque for $10,000, which he'll spend on Christmas presents for family and friends.
The interstate visitor from Brisbane was exploring the Top End as part of a fishing trip with his mates, and says he'll definitely be back to try his luck at catching the Million Dollar Fish.
This season, every $10,000 fish caught sees an additional $1,000 donated to a Million Dollar Fish Official Charity Partner. David decided to gift the $1,000 to Darwin Star Ball through the Starlight Children's Foundation. David is the fourth fisho to hook a tagged barra as part of Season 7.
Million Dollar Fish is run by Northern Territory Major Events Company (NTMEC) on behalf of the Northern Territory Government. NTMEC CEO Tim Watsford said the competition is off to a great start, with four fish caught in six weeks.
"Four fishos have cashed in through Million Dollar Fish Season 7, and we're thrilled to see an interstate angler hook the latest prize-tagged barramundi," he said.
"It's no secret the Territory is home to some of Australia's best fishing, with thousands of anglers making their way to the Top End each year to wet a line in our world-class fishing regions. With plenty of tagged fish remaining in Top End waterways, there has never been a better time to jump in a plane or a car and fish the Territory for the chance to become a millionaire."
David said everyone on the charter was thrilled when he landed the prize-tagged fish.
"We didn't see the tag at first, but once the skipper pointed it out everyone got really excited," he said. "The whole thing hasn't really sunk in yet. This is my first time up here in the NT, and it's been awesome. I will definitely be back to try and catch the Million Dollar Fish – you have to be in it to win it!"
With 96 prize-tagged barra worth $10,000 and eight Million Dollar Fish still up for grabs, there has never been a better time to book a trip to the Territory to wet a line.
Million Dollar Fish Season 7 kicked off on 1 October, and will wind up on 31 March 2022. To claim a prize-tagged fish or be in the running to win fantastic prizes as part of the monthly Lucky Prize Pool, you must be registered. Registration is quick, easy and free – simply visit www.milliondollarfish.com.au.