Red-tag barra bonanza in lead up to very merry Fishmas!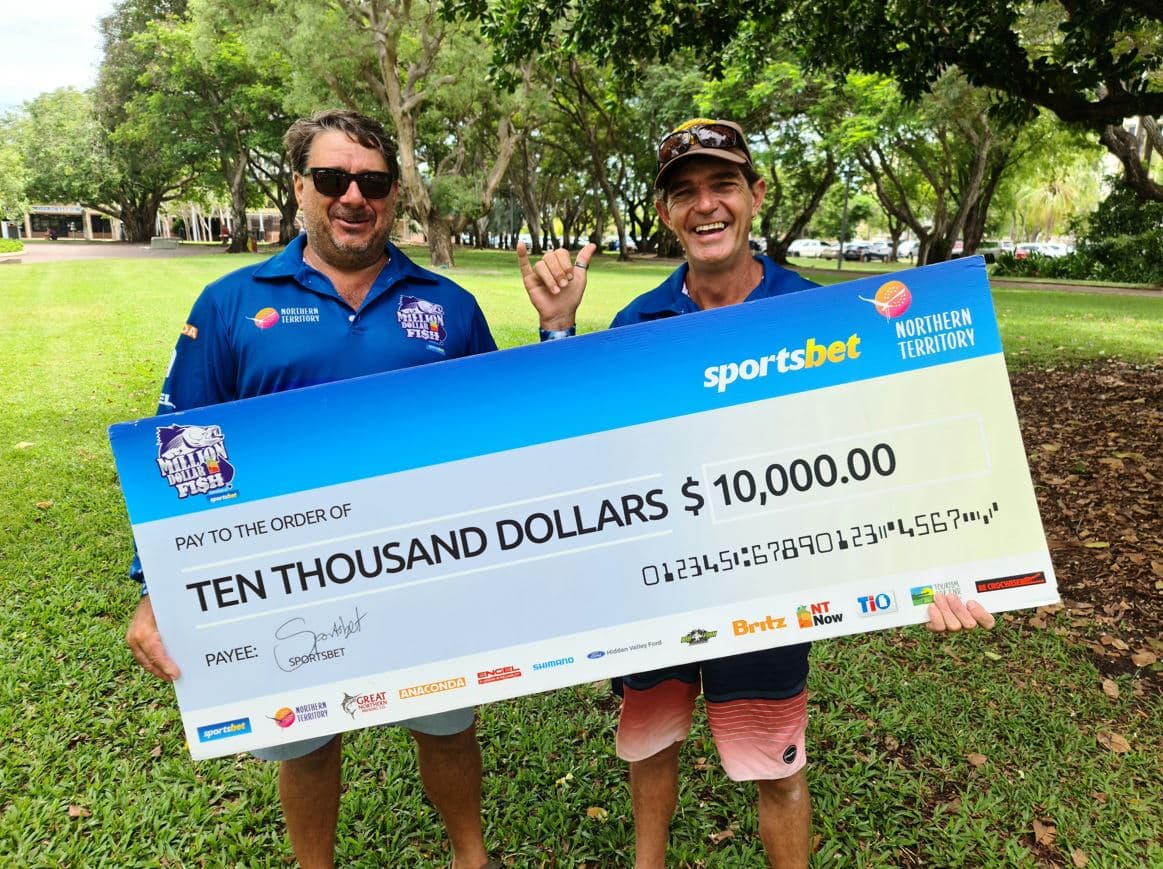 It's raining fish in the Top End, with yet another prize-tagged barramundi reeled in as part of Million Dollar Fish Season 7.
The latest fisho to win big is Territorian Steven Coulton, who reeled in the lucrative catch at Wagait Beach on 6 December.
Caught off the bank of his front yard, the Wagait Beach resident was pleased to find himself $10,000 richer. He plans to split the cash with his mate Andrew Bates who was with him when he hooked the lucky catch.
It wasn't until the pair were filleting their 75cm barra that they realised the fish had a red tag in it. Now with an extra $5,000 in each of their pockets, the lucky duo say they'll spend their winnings on new fishing tackle and paying off some bills.
"We sort of looked for a tag initially but we were looking in the wrong spot. It wasn't until we were filleting the fish and started cutting down the backbone when we realised it had a red tag in it," Steven said.
"It was pretty crazy, we had a couple of cordials on the beach to celebrate. Very exciting!"
As part of Season 7, every $10,000 fish caught is worth $1,000 extra to one of the Million Dollar Fish official charity partners. Steven chose Cancer Council NT. Once the Million Dollar Fish is caught, an additional $10,000 will be given to a Million Dollar Fish official charity partner.
Cancer Council NT Chief Executive Officer Tanya Izod said it was "fantastic" to see Territorians supporting such a great cause.
"This donation will go directly to funding our nurse-led cancer clinics to provide nursing support to cancer patients. It's wonderful to have such support for Territory cancer patients," she said.
The chances of becoming a millionaire, or even $10,000 better off, have never been higher. Still swimming around in Territory waterways for Season 7 are 104 prize-tagged barra worth $10,000 and eight fish worth a cool $1 million.
NT Major Events Company CEO Tim Watsford said it was great to see so many anglers cashing in through Season 7.
"We are already up to our eighth red tag and, with the current Wet Season conditions conducive to barra fishing, we're likely to see plenty more fishos hook onto prize-tagged barra before the end of March," he said.
SportsBet External Affairs Manager Brad Fanning said fishos are well and truly "beating the bookie" this season.
"SportsBet is proud to support Australia's richest fishing competition knowing the huge benefits Million Dollar Fish brings to the region. Just last month an additional 12 barra worth $10,000 were released into the Darwin region by the big man in red," he said.
"There are still 11 of the beauties swimming around Top End waterways, so get out there for the chance to reel some Christmas cash!"
Million Dollar Fish Season 7 finishes on 31 March next year, meaning there's plenty of time to push the boat out or explore the Territory's land-based fishing locations.
Remember, all fishos must be registered to claim a prize-tagged fish.
Registering is free at www.milliondollarfish.com.au and you also go into the monthly draw to win great prizes.