Second Season 7 tagged barra caught!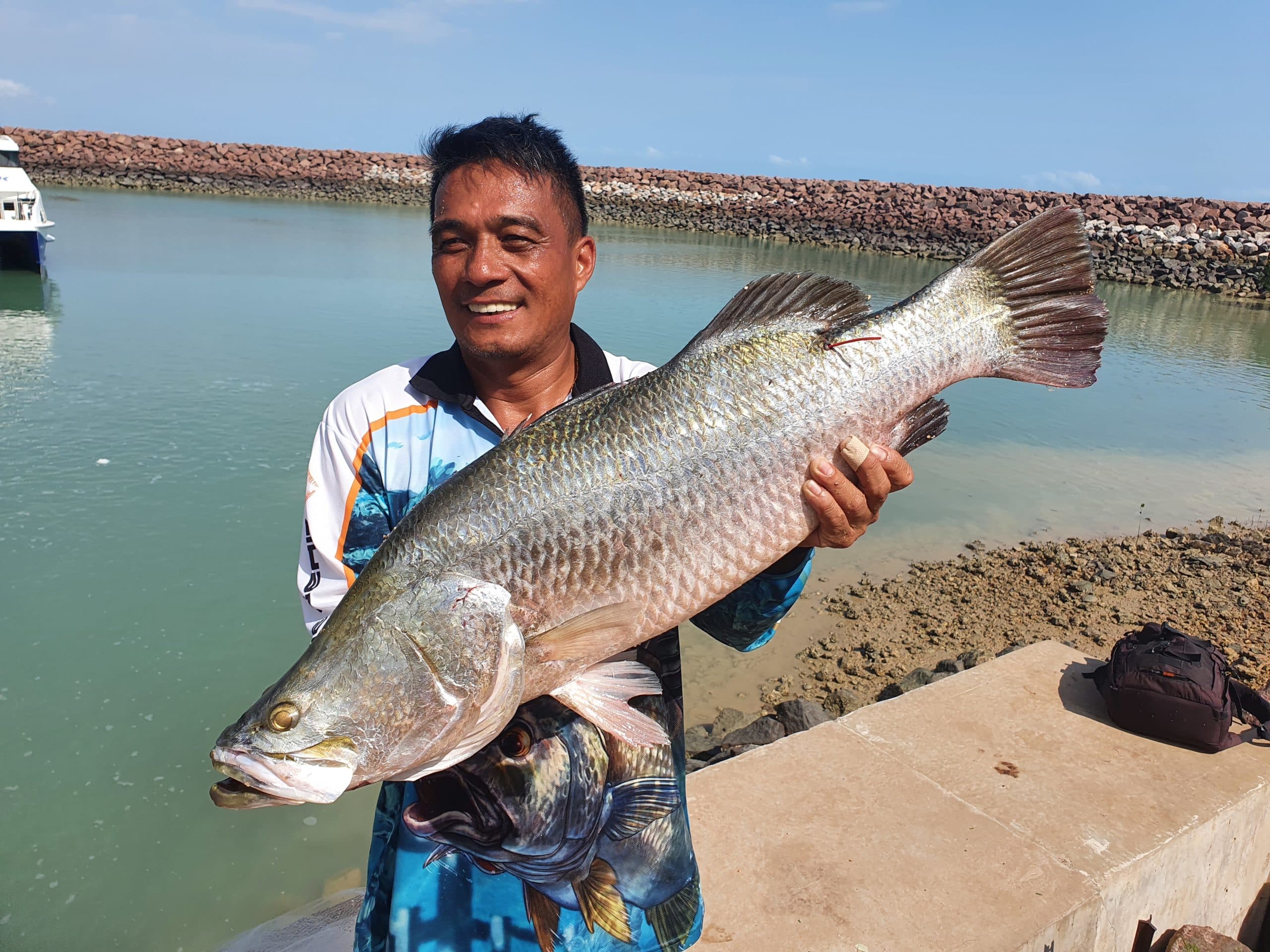 Season 7 of Australia's richest fishing competition, Million Dollar Fish underwritten by SportsBet, continues to deliver, with lucky fisho Danilo Mallari landing the second prize-tagged barra of the season. Danilo, from Darwin, caught his lucky 85cm $10,000 catch while land-based fishing at Cullen Bay.
It was a birthday barra surprise for Danilo, who celebrated his 50th birthday just last week. The catch follows the first $10,000 fish caught last weekend by Reece Prior at Daly River, also by land-based fishing, after the season began on 1 October 2021.
"We were planning to go to Mandorah for a fish this morning, but decided to stay in Cullen Bay due to the tides," Danilo said. "We were only fishing for around half an hour when we caught the tagged barra. It wasn't until we put it in the esky that we saw the red tag. I'll split the prize money between my wife and children, and buy more fishing equipment to try and chase the Million Dollar Fish. I'm very thankful for the Million Dollar Fish competition and to have this opportunity – this is the first year I've registered for the competition and I'm so glad I did!"
For every $10,000 fish caught, the lucky fisho gets to donate an additional $1000 to an official Million Dollar Fish charity partner. Danilo chose Cancer Council NT as the beneficiary of the prize money.
Tanya Izod, Chief Executive Officer of the Cancer Council NT, said she was delighted the charity was chosen.
"A huge thank you to Danilo for donating to Cancer Council NT," she said. "It's wonderful to have such huge support for cancer patients in the Northern Territory. This donation will go directly to funding our Nurse-led cancer clinics to provide counselling and support to cancer patients in the NT. Every person who fundraises or attends an event, or volunteers on our programs, becomes part of the fabric that supports cancer patients and their families through their treatment."
SportsBet External Affairs Manager Brad Fanning said Season 7 was shaping up nicely.
"It's great to see a second $10,000 fish caught already!" he said. "Season 7 is off to a great start, and SportsBet is hopeful someone will land the big one this season. Two fish in the first seven days of the competition is fantastic. Get out there, get fishing, and get catching yourself some dollars. Remember you must be registered to claim any prize money."
There are still 98 fish carrying $10,000 tags swimming around in Territory waterways and eight fish worth a million bucks, as all Million Dollar Fish from previous seasons are still active. Over the course of the competition, a Million Dollar Fish has now been released in each of the Top End's five main fishing regions – Darwin, Katherine, Kakadu, Arnhem Land and the Tiwi Islands.
Season 7 of the Million Dollar Fish competition runs from 1 October 2021 to 31 March 2022.
To be in the running to claim any winnings from a red-tagged fish you must be registered for Season 7. Register for free at www.milliondollarfish.com.au.