Territorian reels in first red tag from Stokes Hill Wharf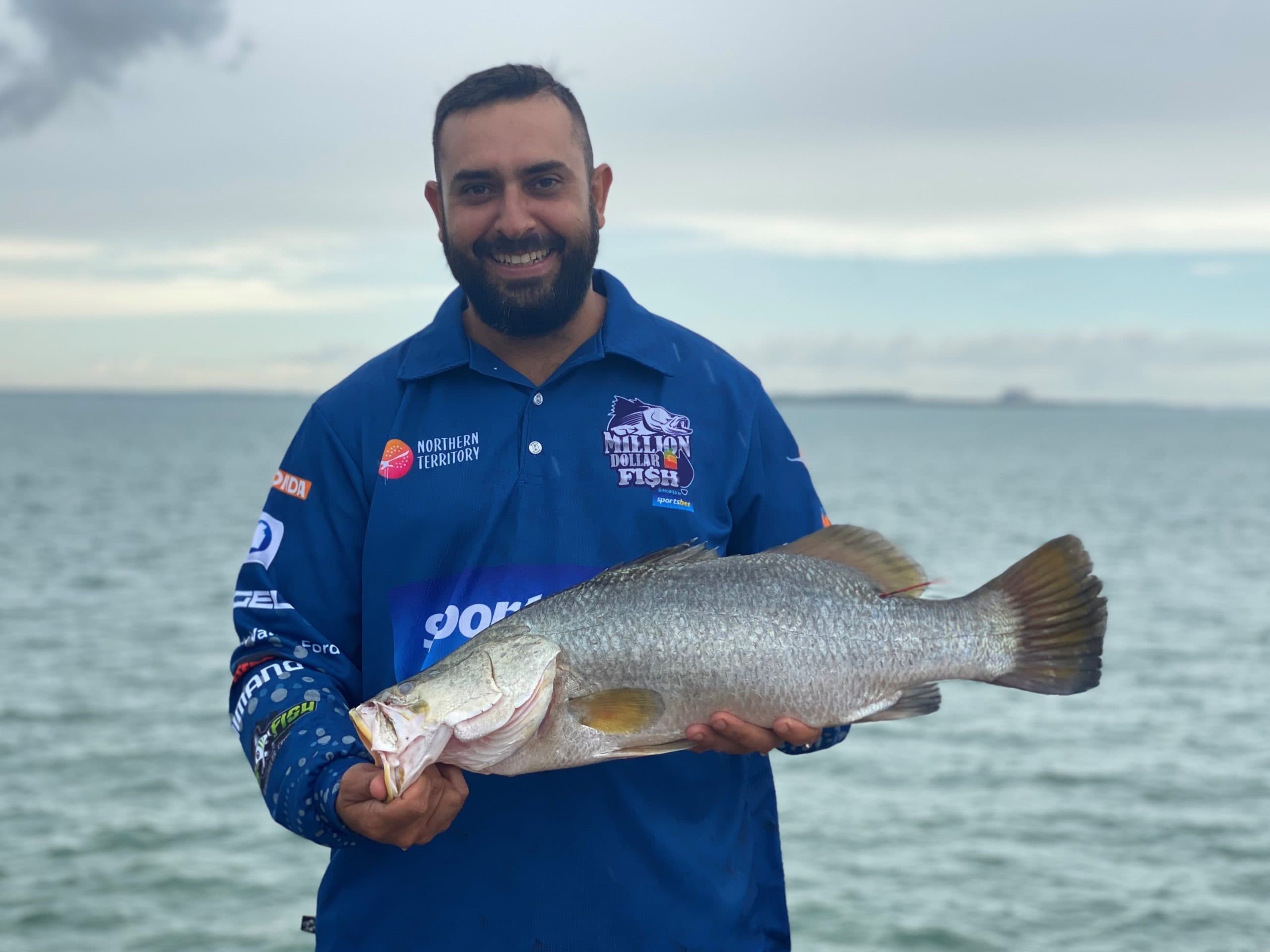 Territorian Anthony Patsalou is celebrating a little harder than usual this festive season, after reeling in a $10,000 barra from Stokes Hill Wharf as part of Million Dollar Fish Season 7. Underwritten by SportsBet, Million Dollar Fish is Australia's richest fishing competition.
The lucky fisho decided to wet a line off the wharf after dinner when he caught the lucrative 67cm barra on 21 December.
"I was absolutely stoked when I reeled in the red tag, I actually started crying – I couldn't believe it," he said.
Now $10,000 better off, the Karama resident said he looks forward to spoiling his family for Christmas, paying off a few bills and enjoying a holiday with his winnings.
This red-tagged barra is not the first Anthony has caught, after bagging a $10,000 fish at Adelaide River in November of 2018 during Season 4. The latest prize-tagged fish is also the first ever caught off Stokes Hill Wharf in the history of Million Dollar Fish.
Northern Territory Major Events Company CEO Tim Watsford congratulated the latest winner Anthony Patsalou on his lucrative catch.
"It's great to see another prize-tagged barramundi reeled in as part of Million Dollar Fish Season 7," he said.
"With more than three months left in Season 7, now is the time to wet a line and explore our world-class fishing destinations across the Top End."
For every $10,000 fish caught, the winning fisho can donate $1,000 to the official Million Dollar Fish charity of their choice. Anthony chose Shoreline, a NT organisation that cultivates educational programs and employment pathways to create sustainable careers for young Indigenous Australians.
Shoreline Managing Director Jason Ryan thanked Anthony for choosing Shoreline.
"The donation will contribute to formal maritime training for Top End Indigenous students creating greater work opportunities and adding value to a dynamic NT tourism industry," he said.
With more than three months left in Season 7, there is still plenty of time to hit the water for the chance to catch a prize-tagged fish.
There are over one hundred $10,000 fish swimming around Top End waterways, and eight barra worth $1 million up for grabs.
SportsBet External Affairs Manager Brad Fanning said there was never a better time to go fishing in the NT.
"We can't wait to award more lucky fishos with cash prizes, so get out in the boat or head out land-based fishing for the chance to catch the Million Dollar Fish," he said.
To be in with a chance to win, simply head to www.milliondollarfish.com.au and register for free.