Angler reaps reward from Territory fishing hotspot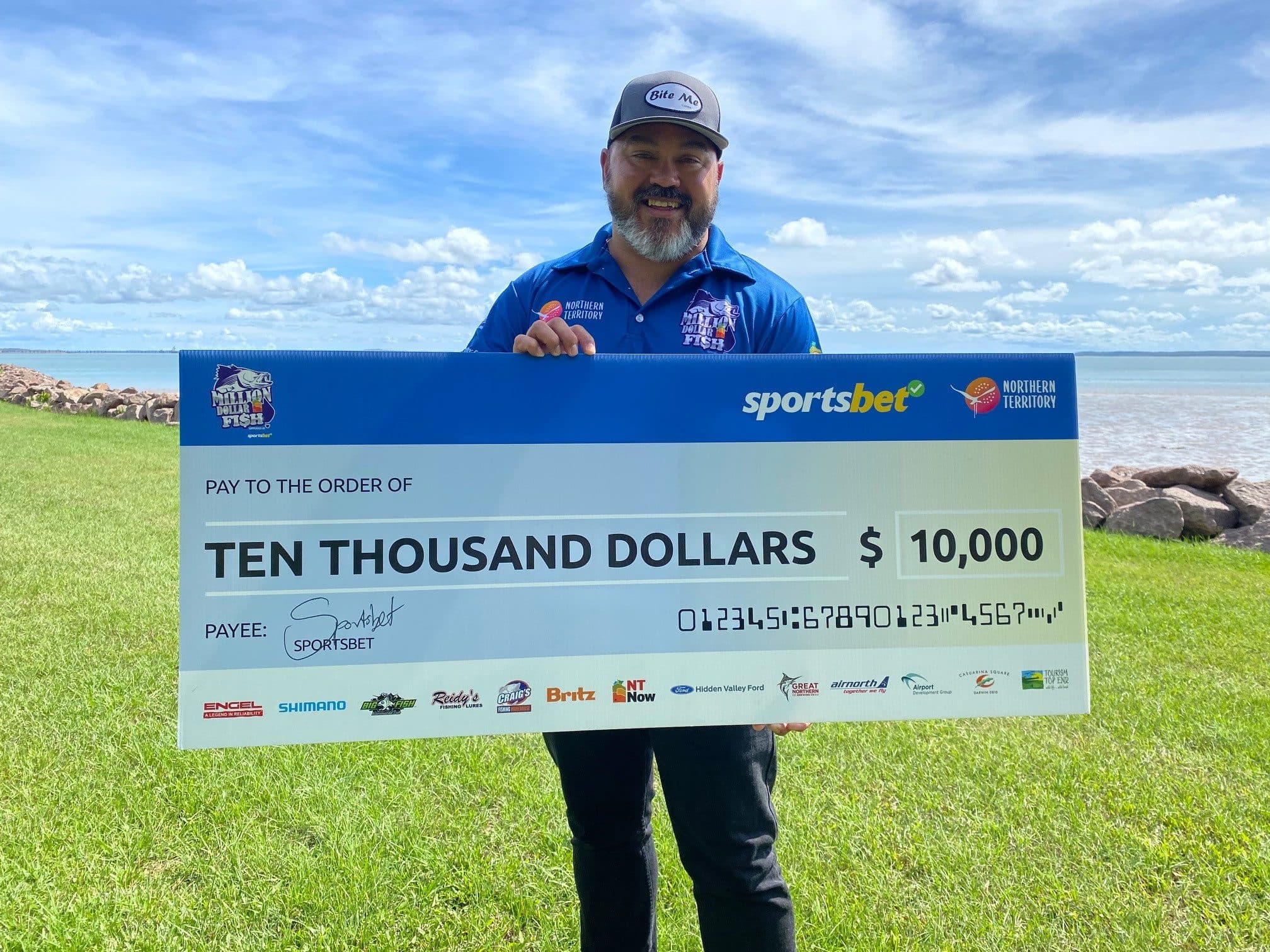 The Territory's Daly River has turned into a Million Dollar Fish drawcard, with another Season 8 $10,000 fish caught there. Lucky fisho Nathan Corpus is the most recent angler to bag a $10,000 red-tagged barra at the Territory fishing hotspot. Two other fishos caught their red-tagged barr at Daly River earlier in the season.
Nathan's 58cm catch at Daly River on 27 November brings the total number of tagged fish caught in the first two months of this season to 16. This is the same number of fish caught during the whole six months of last season.
More than living up to its reputation as Australia's richest fishing competition, Million Dollar Fish, underwritten by SportsBet, has now seen fishos walk away with $170,000. One lucky fisho won double the dough, while three Territory charities have shared in $17,000.
Fisho nearly missed season's must-have accessory – a red tag
A talented fisho out on the river with mates, Nathan saw one of them drop a metrey before a much smaller fish took his own lure. He was so busy trying to flick his catch off so he could chase something bigger that he hardly noticed it was sporting this season's must-have accessory – a red tag.
"My mate Russell (Hanton) and I were fishing somewhere we wouldn't normally fish – it was full of snags," Nathan said. "I cast and hit the bank, got it off, then got a tap and started winding like mad. It wasn't a big fish, so I was busy trying to get it off my line so I could focus on something bigger. I almost missed the red tag because it was covered in green gunk.
"Russell read the tag and said, 'I think you've got a $10k fish!'. When we caught up with our mates in another boat they asked if we'd caught any dollars – which means a metrey. I said, 'Yeah, I caught 10,000 dollars!' I still can't believe it."
The winning fisho donates an extra $1,000 to a Million Dollar Fish charity of their choice, every time a $10,000 fish is caught. Nathan chose Shoreline, an organisation that provides career pathways for young indigenous people.
There's 84 $10,000 fish still waiting to be caught, plus nine fish carrying a tag worth a million bucks. Season 8 runs until 31 March 2023. You must register for Season 8 to claim any prize money from a tagged fish. This also automatically enters you into the Lucky Prize Pool. This includes thousands of dollars' worth of prizes up for grabs including holiday and flights packages and fishing and camping merchandise and equipment.