First fish in the bag!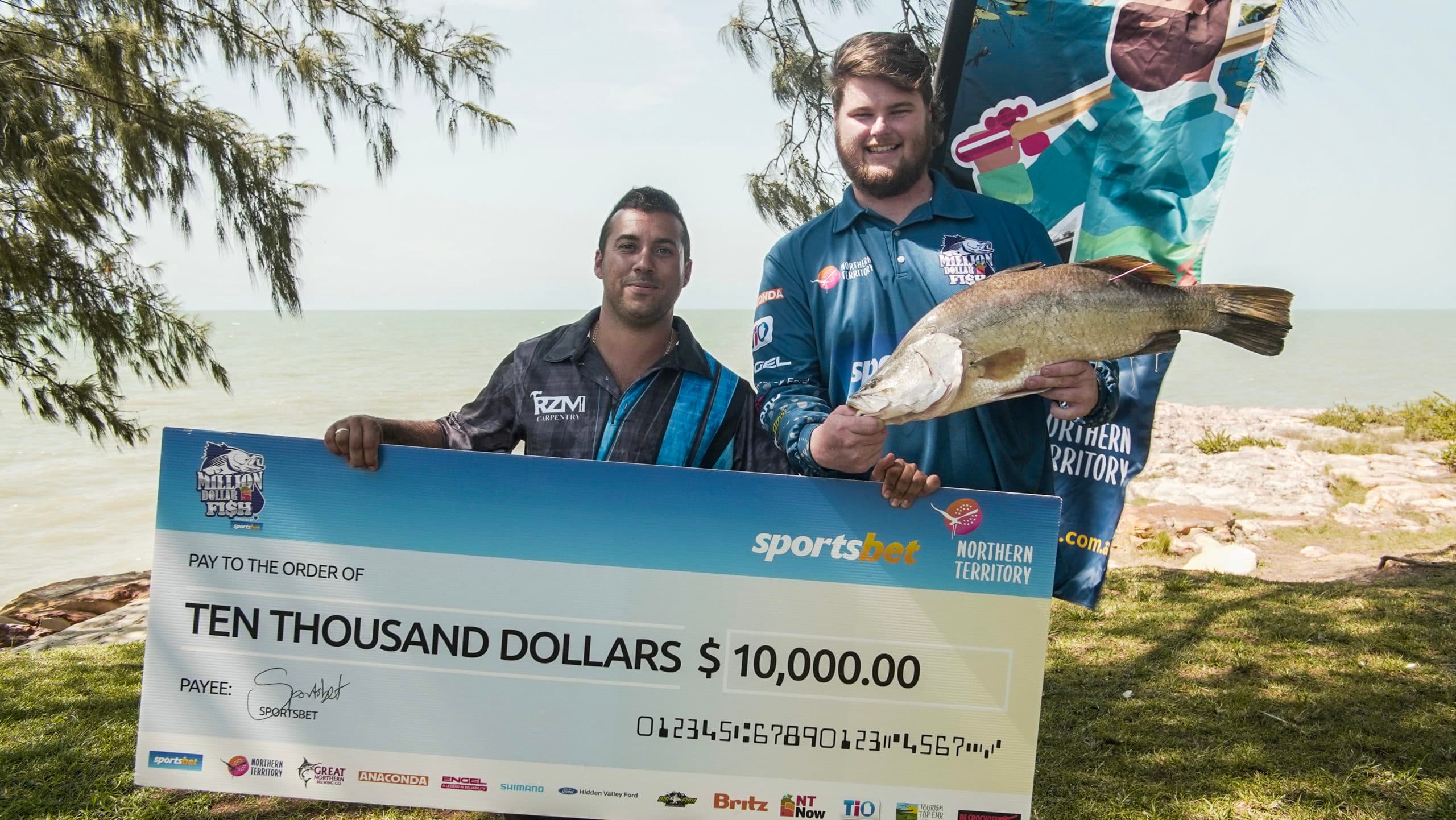 A lucky fisho has caught the first tagged fish in Season 7 of Australia's richest fishing competition, Million Dollar Fish, underwritten by SportsBet. Reece Prior, from the Northern Territory, reeled in a barramundi worth $10,000 at one of the NT's most famous fishing hotspots, the Daly River region.
Reese caught the lucky barra while land-based fishing with his mate Zenon Theodorou, who first taught him how to fish. The two had a pact to split any Million Dollar Fish winnings, and Reece will use his half to add upgrades to his new boat.
"I've just bought a boat, but I am an avid land-based fisho and I caught this tagged barra fishing from land," Reece said. "I'm a Territorian so knew all about Million Dollar Fish when it first started, plus a mate caught a tagged fish in 2018. I'm glad I registered this season!"
There are still 99 $10,000 barra swimming around out there, plus eight chances to snag the Million Dollar Fish. For every $10,000 fish caught, an extra $1000 is donated to one of the official Million Dollar Fish charities, as nominated by the winning fisho. Reece chose the Starlight Children's Foundation's Darwin Star Ball.
"On behalf of the Darwin Star Ball Committee and Starlight Children's Foundation, we thank Reece for this donation," charity representative Danielle White said. "After the challenges of the past 18 months, community support is needed now more than ever to help Starlight bring happiness to sick kids in the NT."
SportsBet External Affairs Manager Brad Fanning said SportsBet was thrilled to hand over the cheque.
"Remember, as well as 99 $10,000 fish still out there, there are also eight chances to land the Million Dollar Fish. Across the course of the competition we have now released a Million Dollar Fish in each of the five regions – Darwin, Kakadu, Katherine, Arnhem Land and Tiwi Islands. This is the greatest fishing comp in Australia, if not the world, and we're hoping someone will reel in the big one during Season 7."
Season 7 of the Million Dollar Fish competition began on 1 October 2021 and runs until 31 March 2022. You must be registered for Season 7 to claim the prize money if you catch a tagged fish. Register for free at www.milliondollarfish.com.au.