Third time lucky! Another $10k fish caught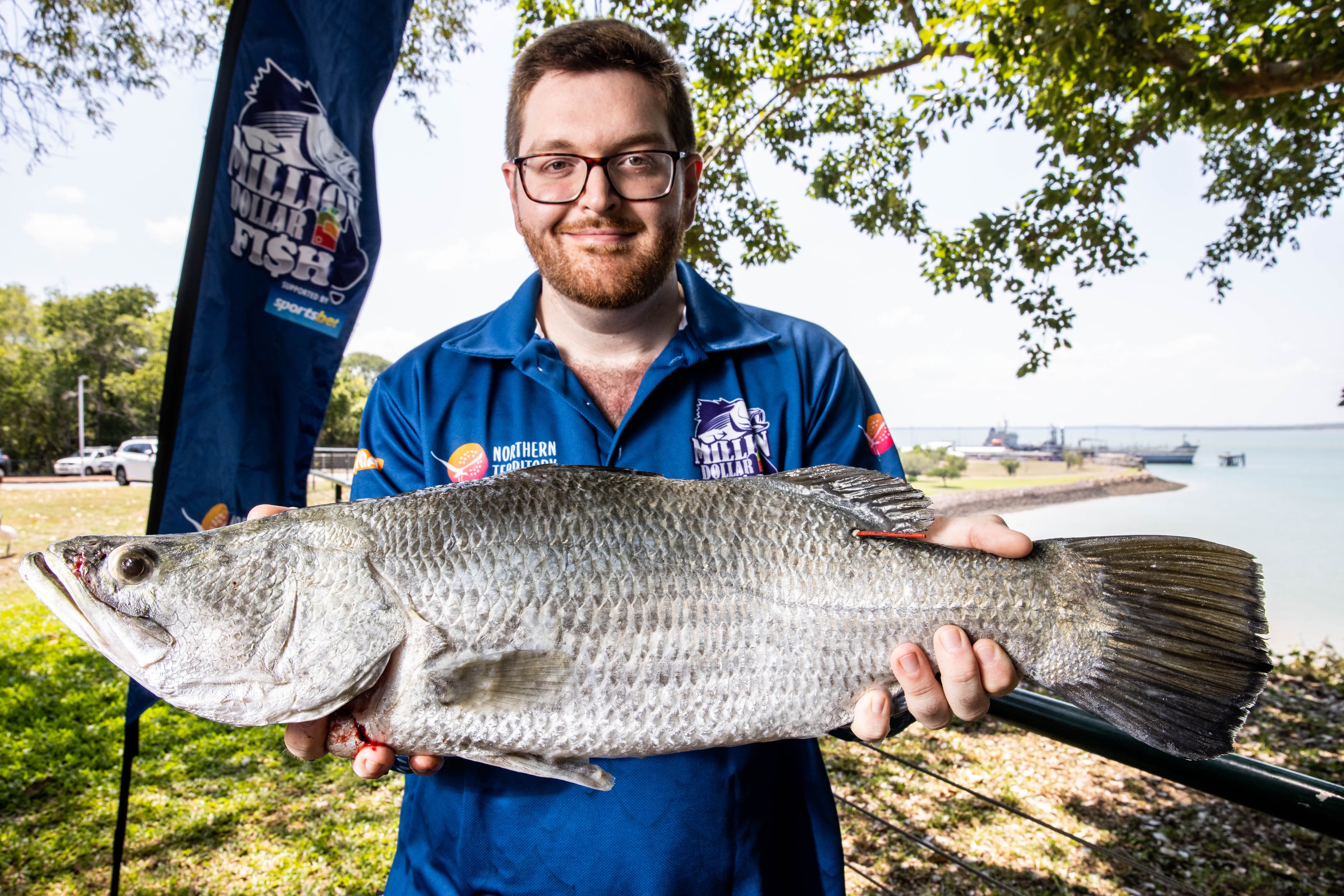 Darwin Harbour has again delivered the goods in the Million Dollar Fish competition, with Palmerston fisho Brendan Graham snagging a $10,000 tagged barra at Middle Arm.
Brendan is the third person to catch a tagged barra as part of Season 7 of Australia's richest fishing competition. He was out on the harbour with mates taking part in a fishing competition when he caught the 63cm barra. Reece Prior caught the first tagged fish at Daly River, while Danilo Mallari landed the second at Cullen Bay in Darwin Harbour.
"I've lived in the Territory for seven or eight years now and registered for the Million Dollar Fish for the last few seasons," Brendan said. "I have a boat and get out when I can, and couldn't believe it when I caught a fish and saw a tag in it.
"I was fishing with mates as part of a fishing competition. Not only did I snag a tagged barra – the team I was in also won the competition, so it was a great day on the water."
Anyone who catches a $10,000 fish gets to donate an additional $1000 to an Official Charity Partner. Brendan chose to donate his $1000 to the Cancer Council NT.
There are still 97 tagged barra worth $10,000 swimming around in Top End waterways, and eight fish worth a million bucks. Once one Million Dollar Fish is caught, the remaining seven turn into $10,000 fish.
SportsBet External Affairs Manager Brad Fanning said it was great to see another fish caught in the first few weeks of the competition.
"Three $10,000 fish down, 97 to go! Plus the eight big ones swimming around out there carrying million dollar tags," he said. "As the major sponsor of the Million Dollar Fish competition, we're always stoked to award a cheque to a winning fisho.
"With so many tagged fish just waiting to be caught, now is the time to get out there and wet a line. And remember – any fisho can win the mill. We've had fish caught from boats, from land, by experts, by novices. Just get out there and try your luck!"
Season 7 of the Million Dollar Fish competition runs from 1 October 2021 to 31 March 2022.
To be eligible to claim the cash if you catch a tagged barra, you must be registered for Season 7. Register for free at www.milliondollarfish.com.au.