Two more $10,000 fish caught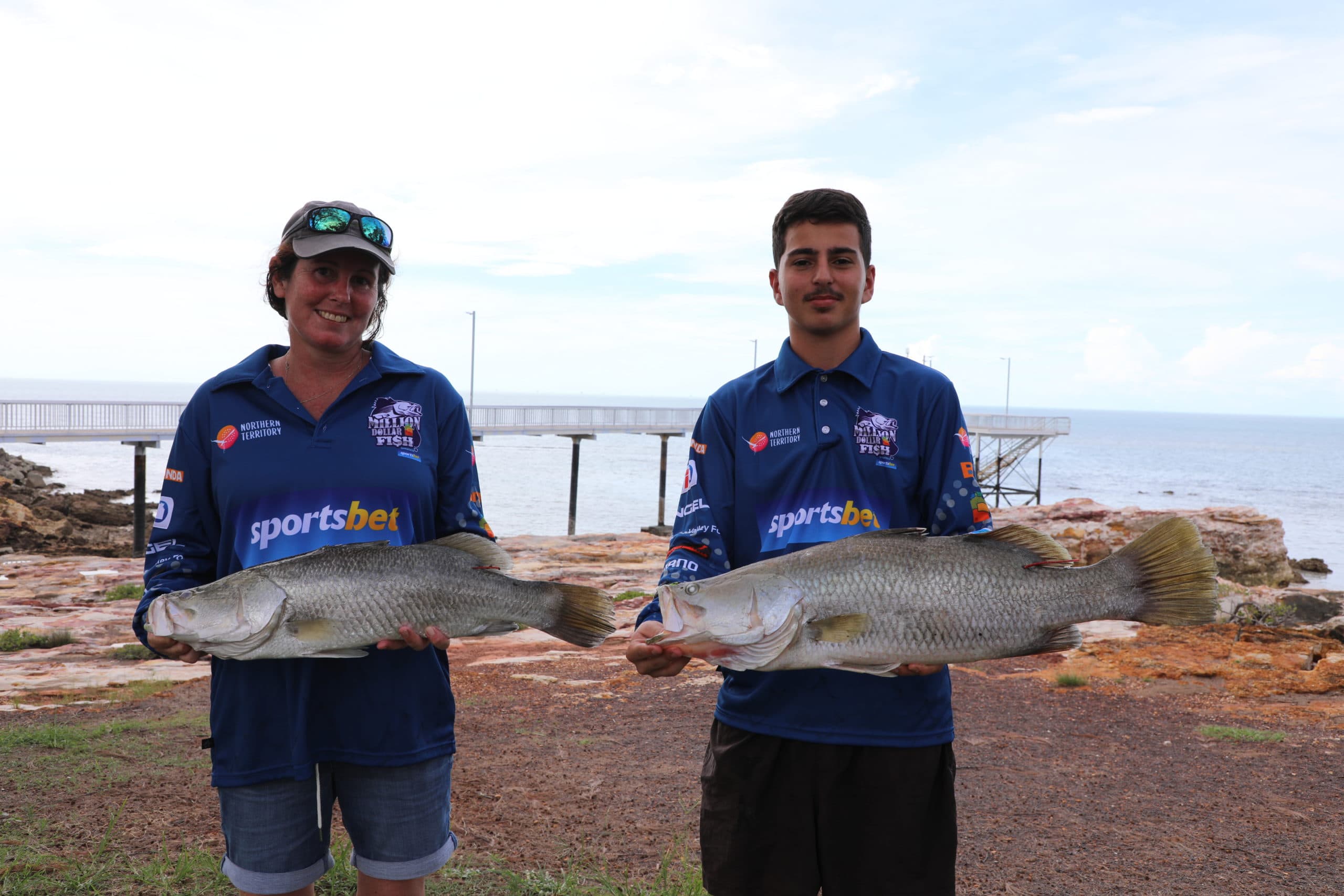 It's been a successful few days on Territory waterways, with two red-tagged Million Dollar Fish Season 7 barramundi reeled in over the weekend.
The two tagged fish caught on the weekend are the sixth and seventh fish of Season 7, with lucky anglers already bagging five barra worth $50,000 in total since the season opened on 1 October 2021.
Keen fisho Tracy Coughlan caught the sixth fish, a 64cm barramundi, at iconic fishing spot Daly River on 4 December. Tracy is the first female angler to bag a Season 7 fish.
"Only five minutes before I got the red tag I'd reeled in part of a barra after a shark got it, so we were lucky to bag the $10,000 fish," Tracy said. "It took me a while to register it had a red tag in!"
The very next day Manolis Zaroufis reeled in a red-tagged 72cm barramundi off the Cullen Bay pontoon, just minutes from the Darwin CBD. This particular fish was one of the 12 released last month by Santa Claus as part of the Merry Fishmas campaign.
"Words can't express how excited I was to reel in the red-tagged barra," Manolis said. "I was out fishing with two of my mates – when I reeled it in we jokingly said to each other to check for a tag and sure enough, there was one! This is the first time I've registered for Million Dollar Fish, as I've only just turned 18, but I've been fishing for years and go out almost every day."
Million Dollar Fish is delivered by the Northern Territory Government through Northern Territory Major Events Company (NTMEC). NTMEC CEO Tim Watsford said the competition is one of a kind.
"Just like the Territory and all the amazing experiences you can have here, Million Dollar Fish is unique," Mr Watsford said. "There's no better reason to visit the NT, and enjoy an unforgettable adventure, complete with the possibility of bagging $10,000 or even a million bucks."
This season, every $10,000 fish caught sees an additional $1,000 donated to a Million Dollar Fish Official Charity Partner. Both fishos chose the Starlight Children's Foundation Darwin Star Ball.
With 105 prize-tagged barra worth $10,000 and eight fish worth a million bucks still swimming around Territory waterways, there has never been a better time to explore the Top End's fishing regions.
To claim a prize-tagged fish or be in the running to win fantastic prizes as part of the monthly Lucky Prize Pool without even wetting a line, you must be registered. Season 7 ends on 31 March 2022.