Two more strikes on the red-tag tally!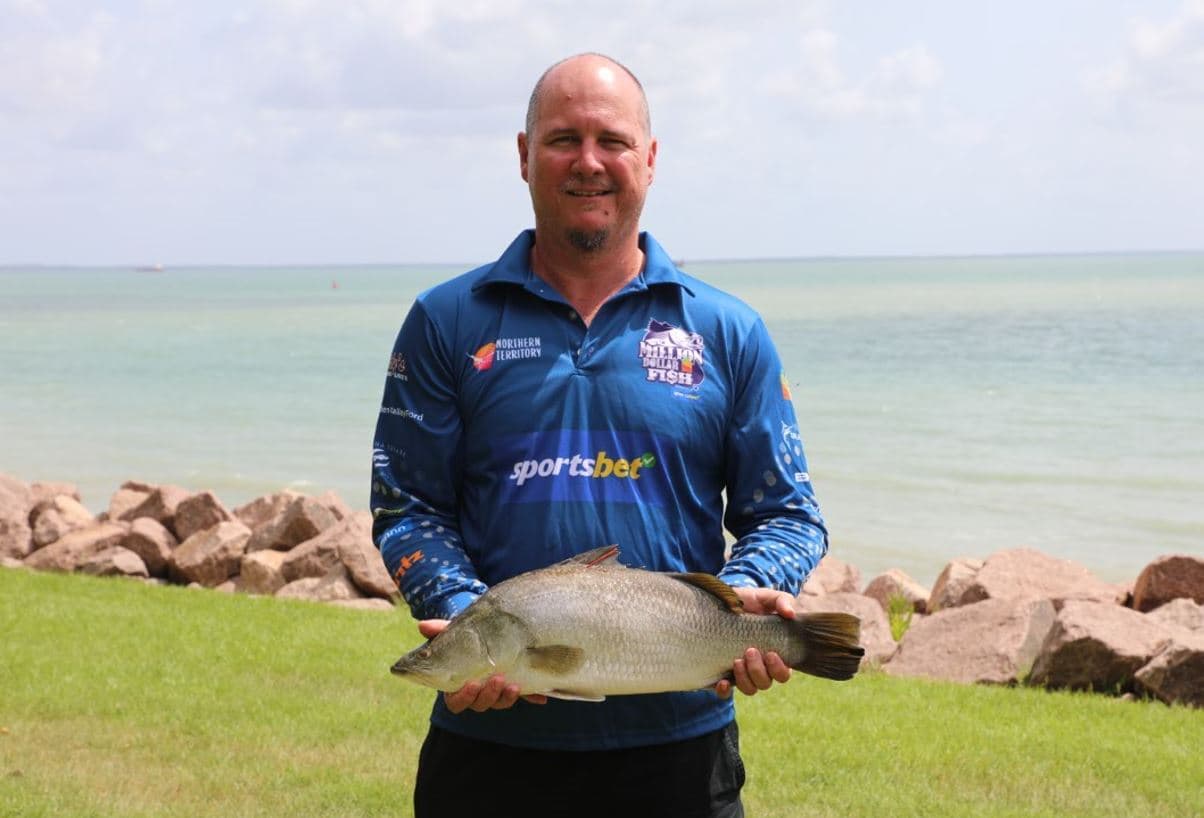 Two more fishos are counting their lucky stars after reeling in red-tagged barramundi as part of Million Dollar Fish Season 8.
This brings the total number of tagged fish caught in the latest season of Million Dollar Fish, underwritten by SportsBet, to 10, with fishos sharing $110,000.
The two most recent fish were both bagged in the beautiful Mary River system, with fish number nine caught by Tumbling Waters resident Shane Leo at Corroboree Billabong. The Mary River wetlands beauty spot is teeming with wildlife, including his 60cm barra sporting a red tag!
Shane said he was out fishing with his son Jack when he reeled in the lucrative catch. "I've registered at least twice for Million Dollar Fish and it was great to finally catch a winning barra. Now I'm going after the big one!"
Fish number 10 was caught by Paul Fitzgerald from Gunn, Palmerston. He bagged his 66cm winning barra at Hardies Lagoon, just a short drive from Corroboree Billabong. Paul's fish is the second Season 8 $10,000 barra to be caught at Hardies.
Paul was fishing with his mate Andrew Bond, and almost threw the barra back after he caught it. "We only kept it because it was a clean fish and would make good eating. That's when we saw the red tag. There were a roller coaster of emotions I can tell you," he said.
Each time a $10,000 fish is caught, an additional $1,000 is given to an official Million Dollar Fish charity of the fisho's choice. Shane chose Cancer Council NT, while Paul chose the Starlight Children's Foundation.
Northern Territory Major Events Company (NTMEC) Head of Events and Operations Coryn Huddy said it was great to see so many red-tagged fish caught as part of Season 8.
"Million Dollar Fish keeps delivering for the Territory, not only for those who are lucky enough to catch a tagged barra, but also in terms of what fishos spend with local businesses when they go fishing, which supports our economy," he said.
Million Dollar Fish Season 8 runs until 31 March 2023. There are still 90 $10,000 waiting to be caught, plus nine fish worth a million bucks. This includes the Season 8 Million Dollar Fish, plus the other big ones from previous seasons, which are still eligible to be caught. Prize-tagged barramundi have been released across the Tiwi Islands, Darwin, Kakadu, Arnhem Land and Katherine.
To claim any prize money from a tagged fish, or fantastic prizes as part of the monthly Lucky Prize Pool, anglers must be registered for Season 8. Register for free at www.milliondollarfish.com.au.