Yet another fisho catches one of Australia's Most Wanted!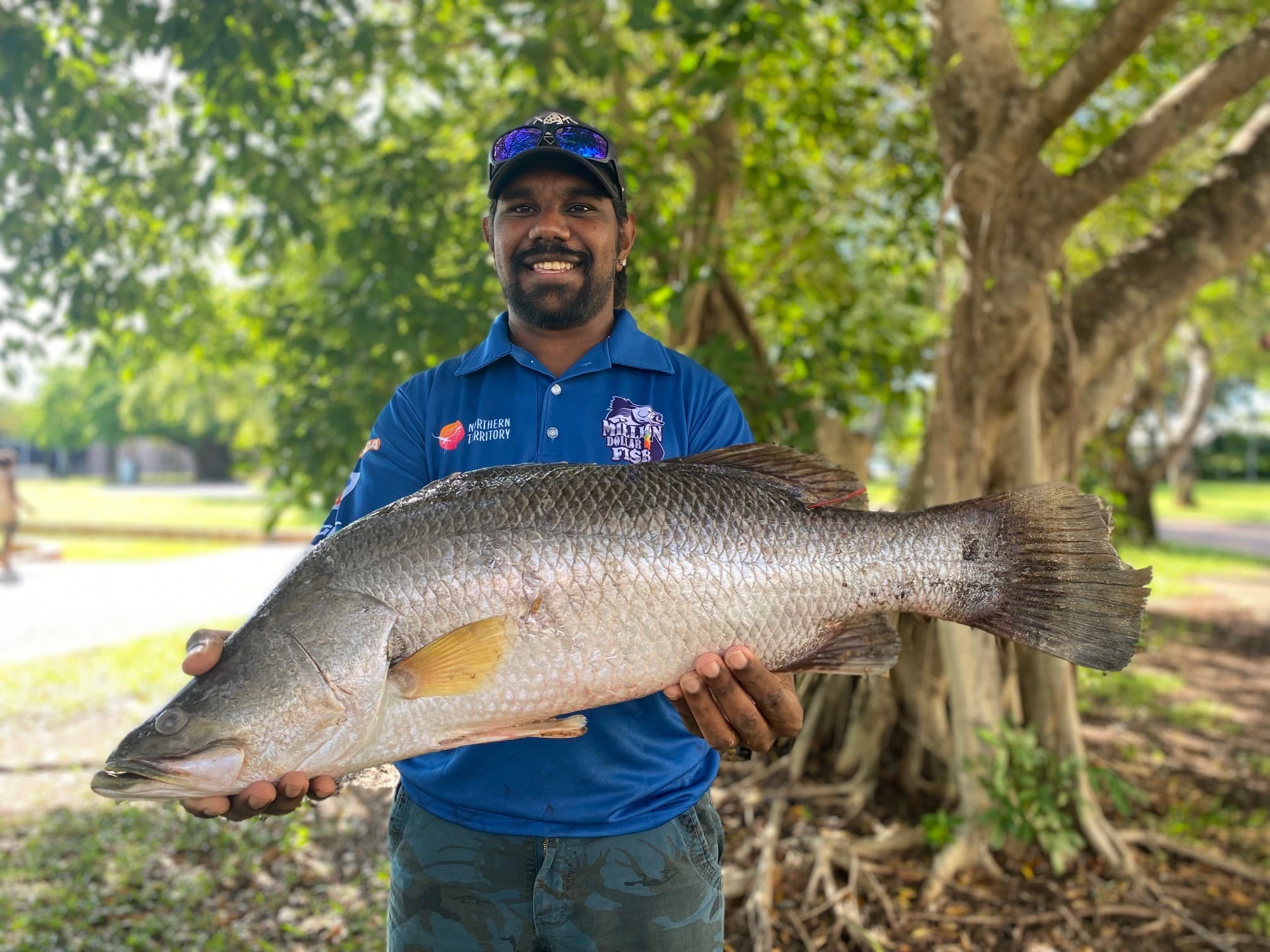 Another lucky fisho has found himself $10,000 richer after landing a tagged fish as part of Million Dollar Fish Season 7. Underwritten by SportsBet, Million Dollar Fish is Australia's richest fishing competition and sees a number of tagged fish released across the Top End's iconic fishing regions each year – Darwin, Katherine, Tiwi Islands, Arnhem Land and Kakadu. Some are worth $10,000, while some carry a reward of a whopping million bucks!
On Friday, 18 March, Ngukurr resident Bobby Nunggumajabarr caught his 69cm fishy fugitive at Roper Bar, approximately 2km from where it was initially tagged at Roper River. He is the 16th angler to land himself $10,000 after joining the hunt for Australia's Most Wanted fish as part of Season 7. A proud father of two girls, Bobby looks forward to spoiling his family and purchasing new fishing tackle with his prize money.
"I've been registering for Million Dollar Fish for years, and have been fishing everywhere trying to catch a red-tagged barra," he said.
"I'm so excited to finally get one. It was actually my niece who first saw the tag, and then everyone ran over to check. I couldn't stop jumping around when I found out!"
Season 7 has smashed all records, with the most fish caught and money paid out. There are still six days to go before the end of the season on 31 March 2022, and Bobby is one of five fishos who caught their tagged fish in the final month. Anyone who catches a $10,000 fish gets to donate an additional $1,000 to the Million Dollar Fish-affiliated charity of their choice. Bobby chose Shoreline, a Territory organisation that creates programs and pathways to sustainable careers for young Aboriginal Australians.
NT Major Events Company CEO Tim Watsford said it's been great to see so many fishos joining the hunt for Australia's Most Wanted fish.
"The results speak for themselves – the more you get out there fishing our pristine waterways, the more chances you have of bagging yourself a cash reward for simply enjoying yourself out on the water," he said.
"Bobby's catch proves it's never too late to try, so register before the end of Season 7 to ensure you can claim any winnings if you bag a tagged barra."
There are still almost 100 tagged barra waiting to be caught, including eight fish carrying a tag worth a million bucks. That includes the big one from Season 7, plus all the other seasons. The fish carrying tags worth $1 million remain active year-round, until one is caught, but you MUST be registered for Season 7 by 31 March 2022 to claim any prize money. The $10,000 fish cease to be active after the end of this month. Register now at www.milliondollarfish.com.au.